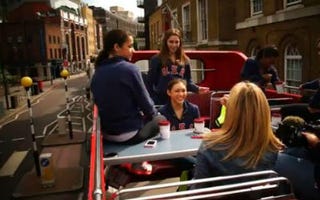 This dance move hasn't yet made it into any of Team USA's floor routines, but the Dougie is fast becoming the signature move of Gabby Douglas, McKayla Maroney and their gold-medal-winning teammates. Gabby first showed it off for a national audience when delivering her promised "happy dance" after earning a spot on the squad.
This week the teens, led by McKayla, taught it — or tried to teach it — to good-sport interviewer Jenna Bush, who was with them atop a double-decker bus in London. She then brought her new moves back to her Today colleagues. That performance didn't earn high marks for style or execution, but there's hope, if she practices — after all, if there's anything to be learned from this year's gymnastics champs, it's that hard work pays off.
Visit NBCNews.com for breaking news, world news, and news about the economy
Read more at the Huffington Post.