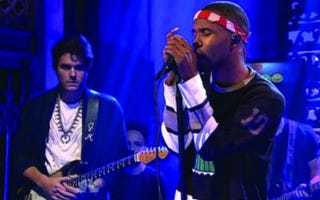 It didn't take long after Frank Ocean's performances of "Thinkin' Bout You" and "Pyramids" (with John Mayer on guitar) on this weekend's Saturday Night Live for his name to become a nationwide trending topic on Twitter.
Watch the video here and see what all the hype was about. From Essence:
The stripped down version of the song comes from his new album, Channel Orange, which debuted over the summer to rave reviews from critics and fans. The singer also performed "Pyramids" with a little help on guitar from John Mayer. Unfortunately, Ocean didn't participate in any sketches with host Seth McFarland.
Frank Ocean - Thinkin Bout You - SNL 9-15-12 by IdolxMuzic
Read more at Essence.com.