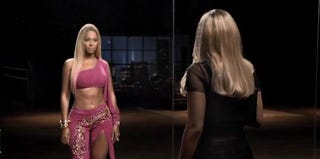 Beyoncé fans sort of got what they were looking for on Thursday when Pepsi released an ad showcasing her dancing to her upcoming single, "Grown Woman," which is produced by Timbaland.
The ad, called "Mirrors," highlights some of Beyoncé's outfits and dance moves through reflections seen in a studio of mirrors. The commercial is part of Pepsi's celebrity-infused "Live for Now" global ad campaign that launched last year, according to Mashable.
Beyoncé's camp had been hyping the release of something this week on Tumblr and at #BeyHereNow, generating lots of buzz. Fans did get a video of sorts, but they will have to wait until April 8 for the single "Grown Woman" to debut in full.
Watch the Pepsi video:
Read more at Mashable.
Like The Root on Facebook. Follow us on Twitter.