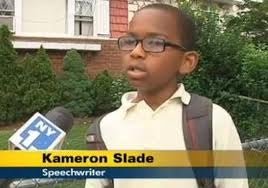 Watch This: Fifth-grader's gay-marriage speech: Fifth-grader Kameron Slade was elected to represent his class in a schoolwide speech competition but had his subject matter denied by the principal, who deemed gay marriage an inappropriate issue. Kameron, who "thought that this was a real good winning speech for tomorrow," got to deliver the whole thing to NY1.
R. Kelly owes $5 million in taxes: The Chicago Sun-Times reports that documents held by the Cook County Recorder of Deeds show the recording artist owes the IRS nearly $5 million.
In Brooklyn, N.Y., a heated race to succeed Edolphus Towns: Read about the candidates who are fighting for his seat at BET News.