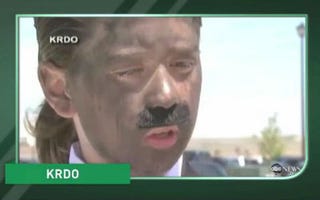 Sean King, a Colorado Springs second-grader, was pulled out of class for dressing like Martin Luther King Jr. for a school project in a costume that included every last detail … and maybe one too many: He also painted his face black. The 8-year-old told KRDO that school officials were "mean" to him and his family and made his mother cry when they called him to the principal's office and made him wash his face. Clearly unfamiliar with the historical significance of blackface and unable to distinguish it from face paint worn by other students, he said, "They were really negative to me."
In light of the incident, school officials are now considering offering special classes about racial stereotypes to help teach students and parents more about racial sensitivity. That would have been a really smart move before this poor kid got traumatized and before whatever lessons might have been learned about MLK and racial harmony were totally overshadowed by the costume controversy.
Read more at the Huffington Post.