Just because Brian Tyree Henry plays Paper Boi, a budding rapper in the FX series Atlanta, doesn't mean that he actually knows trap music IRL.
Atlanta, whose 10-episode season ends Tuesday (and which has been renewed for a second season), has done a phenomenal job depicting the vastness of the black experience, including the role of rap music, which is pervasive throughout the series.
So, we put Henry—one of our favorite breakout actors—to the test with "Name That Trap Song." Is Brian Tyree Henry about that life?
The game's concept is quite simple: The Root staff reads lyrics to an iconic trap song, and Henry finishes the word or phrase. But even though he's a North Carolina native who spent his college years in Atlanta and plays a rapper named Paper Boi, let us not project a trap-loving ethos on the brother.
"Can somebody get on Google, please, just in case, so I don't get embarrassed?" Henry asked The Root. Let the games begin!
G/O Media may get a commission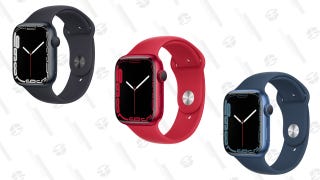 Up To $45 Off
Apple Watch Series 7
Moral of the story: Brian Tyree Henry just isn't that trap dude. You've killed our dreams, Brian, but no judgment. We love you and still celebrate your acting.
Watch "Name That Trap Song" with Brian Tyree Henry here:
Felice León is multimedia editor at The Root.