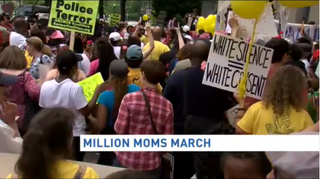 In an effort to draw attention to police brutality and racial injustice, scores of mothers marched Saturday in Washington, D.C., to call attention to the problems, reports USA Today.
Maria Hamilton, founder of Mothers for Justice United, helped organize the Million Moms March along with the Coalition for Justice, the report says.
Dontre, Hamilton's 31-year-old son, was shot 14 times last April and killed by a now-former Milwaukee police officer, who was not charged in the incident.
"This is a call for everybody to wake up," Hamilton said, according to the news outlet. "We are here on behalf of our babies to tell the United States government that we aren't going anywhere. We aren't going to continue to keep burying our babies. Do something and do it now."
Read more at USA Today.