A pizza delivery driver says that during a routine traffic stop, he was just trying to pull over in a safe spot when a Bladensburg, Md., police officer drew his gun and demanded that he get out of the car.  
Christopher Jeffries, 25, captured the exchange between him and the Bladensburg police officer, which happened around 11 p.m. Jan. 16.
"I felt like I was living the last seconds of my life when the man walked out of his car," Jeffries told Fox 5 DC.
According to the news station, police say that Jeffries was driving erratically and almost struck another driver while making a left turn, and that is what caused the officer to pull him over. Jeffries also reportedly ignored the officer's attempt to initiate the stop.
G/O Media may get a commission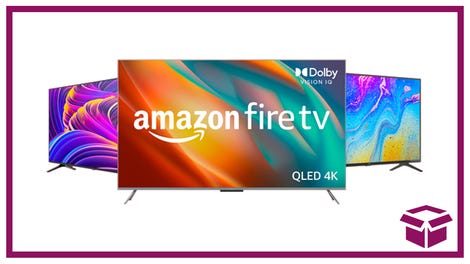 Ooh. stunning.
New Amazon Fire TVs
Police also say that a defiant Jeffries refused to give the officer his license and registration. Video of the incident appears to show a different version of events.
While it is unclear when Jeffries began recording the incident, in the video, the officer appears to have his gun drawn. The officer continues to shout requests, including, "Put your phone down," although Jeffries' phone is not in his hands. The officer continues to tell Jeffries to roll his window down although his window is rolled down.
The officer can be heard yelling, "This can go from bad to real bad."
The officer asks Jeffries to roll his window down, which he does, and the officer can be heard telling him he's going to pull him out of the car.
"For what?" Jeffries replies. "Sir, you're about to kill me right now?"
The two continue arguing until the video cuts off.
"Seeing that gun just on my side mirror was like a startling, frightening moment of like, 'This could be it,' given the atmosphere and the time that we are in," Jeffries told Fox 5.
"Basically, he was looking for a safe place to pull over, and apparently he didn't pull over fast enough for the officer," J. Wyndal Gordon, Jeffries' attorney, told the news station. "The officer gets out of the car with his gun drawn and points it in his face."
He added, "This was completely disgraceful that this Bladensburg police officer would have his gun drawn on a routine traffic stop. He had his driver's license, he had his information, and the information that he didn't have—write him a ticket."
Jeffries is suing the officer, charging civil rights violations.
Bladensburg Police Chief Charles Owens sent Fox 5 a statement:
On January 16, 2016, at 11:07 p.m., a uniformed Bladensburg patrol officer observed a vehicle swerve across the painted lane divider on Baltimore Avenue in Bladensburg. The operator continued to drive erratically to Annapolis Road. The driver then abruptly turned left onto Kenilworth Avenue nearly striking another motorist. The driver continued on Kenilworth Avenue for about a half mile ignoring the officer's attempt to initiate a traffic stop in a marked police vehicle.

Given the limits of a YouTube video captured by the driver's cell phone, the driver is shown to be defiant to lawful orders to give the officer his driver's license and registration card. The driver continued his defiance by refusing to roll-down his window to communicate with the officer, thus escalating the incident.

Ordinarily, when a traffic stop is initiated the operator complies with the officer's request for their license and registration card. Maryland law requires a vehicle driver to produce their driver's license and registration card upon demand of a uniformed police officer. In this instance, the officer made numerous demands for his license and registration card.

The driver faces charges in Prince George's County.
Read more at Fox 5 DC.