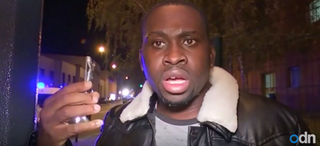 Amid innumerable tales of horror in the aftermath of coordinated terror attacks in Paris on Friday night emerges an unbelievable story of survival that was propelled only by fate.
A man identified as Sylvestre told On Demand News that he was standing outside the Stade de France stadium after ending a call on his Samsung phone when a blast went off, and he was nearly hit by flying shrapnel, according to People magazine. He received an injury to the abdomen, but the phone received the bulk of the damage, notes the report.

"It exploded right in front of me," he told ODN, according to People. "Everything was blown to bits and I felt stuff flying around and I left, I fell and then I got back up."
Early Saturday, ISIS claimed responsibility for the coordinated attacks, which the group called the "first of the storm," the report says.

Watch the video here:

Read more at People.