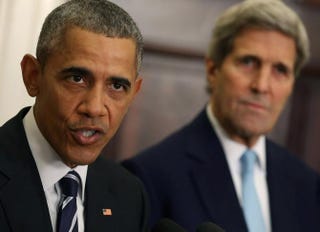 Vowing to "bring these terrorists to justice," President Barack Obama condemned the terror attacks that occurred late Friday in Paris, killing 128 people, according to CNN.
Early Saturday, ISIS claimed responsibility for what is being called the worst violence witnessed in the country since World War II, involving coordinated attacks of gunfire and explosions, the report says. "The attackers targeted six sites Friday night in Paris, the deadliest being a massacre at a concert hall where at least 80 people were killed," the report says.

French President François Hollande called the attacks "an act of war" by the militants. He closed the country's borders and declared a state of emergency.
"When the terrorists are capable of doing such acts, they must know that they will face a France very determined," he said, CNN reports.
During a late news conference Friday, Obama vowed to assist French officials in any way possible, calling the incident an "outrageous attempt to terrorize innocent civilians."
In January, two gunmen attacked the Paris offices of the French satirical magazine Charlie Hebdo, killing 12 and wounding 11.
Read more at CNN.