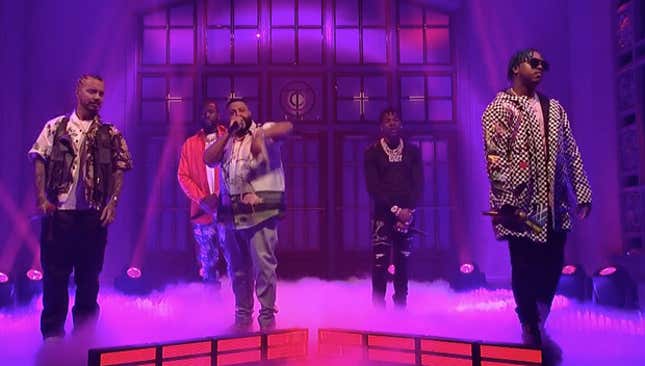 On May 18, DJ Khaled made his first appearance as a musical guest on Saturday Night Live, paying homage to Nipsey Hussle with some of his close friends and collaborators.

Comedian London Hughes Talks New Book, Parents Watching Her Very Sexual Comedy, & Beyoncé
For the first performance, Khaled (full name: Khaled Mohamed Khaled) probably broke a record for most additional guests on the SNL music stage. The crowd was treated to a medley of "Jealous" and "You Stay," including Lil Wayne, Big Sean, Meek Mill, Jeremih, Lil Baby and J Balvin. The stage was full of artists, but the focus was kept on the music—no dancers, tricks, or props, just some blue/purple mood lighting and a little fog for ambiance.
For his second performance, the Father of Asahd opened with more ambient fog, a word of thanks to his wife and son and a couple of slightly awkward moments that were out of the artists' control. It looked like there were some missed cues: Khaled's first signature call for "Another one!" got the beat drop from the track "Jealous," which was from the first set. Khaled's second call for "Another one!" was met with silence. Basically, somebody's getting fired.
Moments later, that notorious live TV 'Applause' sign for the audience could have helped when a revolving piano revealed SZA coolly draped over its top … but the crowd was mute. Dead. Total quiet. Not one person made a sound—not a single clap, not one yelp, hoot, or holler; you could hear a pin drop in the audience.
Hopefully, she didn't take it personally; there's good reason not to. SZA is a huge name in music, making anthems for black girls sick of love's bullshit. She's collaborated with some of the best artists in the game and landed spots on some of the hottest movie soundtracks of the year—most of us can list those anthems, artists, and soundtracks, but it's safe to say there were maybe three black people in the audience last night. I'm just guessing. SNL is almost exclusively attended by white folks who don't know SZA or her songs, never mind the Supreme Alphabet of her name.
So, the piano spinning around to reveal SZA was quite literally over-the-top for the expectations of the SNL crowd. The fact that the music still hadn't cued up made this dead-air mishap even more noticeable than it would have been.
Even though SZA's grand entrance fizzled, she seemed to take it with a gracious, if not embarrassed, smile. She and Khaled started off the song medley with "Just Us," followed by Meek Mill and some added laser lights for "Weather the Storm," and finally, with an image of the late Nipsey Hussle projected in the background, John Legend came out on piano for "Higher." The album track features verses by Hussle, and Khaled pledged to donate proceeds from the collaboration to Hussle's children, Emani and Kross.
"Long live Nipsey Hussle! The marathon continues," Khaled declared.
Indeed, it does.