President Barack Obama, known for his sharp sense of humor, doled out some funny and critical advice to presidential aspirant Kanye West on Saturday during a Democratic National Committee fundraiser in San Francisco, Calif.
An estimated 1,300 people paid between $250 and $10,000 per person to attend the event, which was headlined by West, alongside an appearance from the Golden State Warriors and the team's NBA championship trophy, according to the Hollywood Reporter.
"In a little while you are going to hear from a guy who is thinking about getting into politics," the president said, referring to West's outlandish announcement at the MTV Video Music Awards that he plans to run for president in 2020, notes the report. "You may have heard that Kanye is thinking about running [for] speaker of the House. It couldn't get any stranger. In case Kanye is serious about this whole POTUS thing or, as Kanye calls it,'peezy.' "
The president then offered the rapper some good-humored advice. 
"You got to deal with strange characters who behave as if they are on a reality-TV show," joked Obama, who is a former senator from Chicago's South Side. West appears with his wife, Kim Kardashian, on her family's popular E! reality show Keeping Up With the Kardashians.
G/O Media may get a commission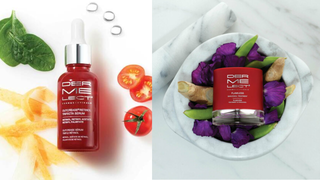 Save $19
Retinol Renewal Kit
But then the president unleashed the funny, even poking a little fun at himself: "Saying you have a beautiful dark, twisted fantasy," he said, according to the entertainment news site—a reference to the rapper's 2010 Grammy-winning album titled My Beautiful Dark Twisted Fantasy—"that's what's known as 'off message' in politics. Do you really think this country is going to elect a black guy from the South Side of Chicago with a funny name to be president of the U.S.?
"That is crazy," President Obama said. "That is cray."
It sounds like the president was advising West to take a seat!
The president then turned to more serious issues, such as defending his record, including providing 17 million Americans with health insurance through Obamacare; strengthening gun control laws; and decreasing oil imports, according to NBC New York.
"It does kind of make you wonder: Why are so many Republican politicians down on America?" he said, reports the television news outlet. "Why are they so grumpy? I know it's political season, but listening to them, you would think that everything was terrific back in 2008—when we were going through the worst financial and economic crisis since the Great Depression, we were engaged in two wars, hopelessly addicted to foreign oil, bin Laden's at large."
The U.S. was better back in 2008? Now, that is cray.
No word yet from Kanye about his thoughts on the president's advice.
Read more at the Hollywood Reporter and NBC New York.