They say there's tragedy in comedy.
Chicago has become the national scapegoat for crime, despite not being the murder capital of the country. When it comes to showcasing the lives of black folks in Chicago, we have Lena Waithe's The Chi, which appears to be doing well, recently announcing a third season pickup. While the crux of that drama is that black life in Chicago is important (especially in an attempt to humanize its residents rather than exploit them), it's not the totality of our existence.
Much like any other circumstance, black folks definitely know how to find the cackles in catastrophe. Y'all remember that whole "nigger navy" fiasco, right?
With its new show, South Side, Comedy Central is introducing the other side of Chicago's most infamous area.
Per the network's press release:
The aspirational, scripted comedy is set in and around the working class neighborhood of Englewood on the South Side of Chicago. South Side follows two friends who just graduated community college … so now they're ready to take over the world! But until they do they're stuck at Rent-T-Own, a retail-rental crossroads where the South Side's vast ensemble of characters come together. Despite the obstacles of inner-city life, these friends and their co-workers all strive to achieve their entrepreneurial dreams. Brought to life by local Chicagoans, both in front of and behind the camera, this show gives viewers an authentic portrayal of what life on the South Side is all about.
G/O Media may get a commission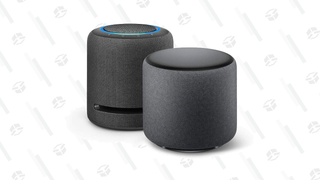 25% off - Prime Exclusive
Echo Studio + Echo Sub Bundle
In an exclusive debut trailer for The Root, we're teased with the duo's pursuit of becoming "venture capitalists" (or ... "adventure capitalists"), a female police officer getting "this dick," and of course, deep-dish pizza (which, haters will say is Photoshop—I mean, "lasagna with crust").

Speaking of which, can we abandon any pretense right here and now that any Chicago resident eats deep dish on the regular? That's a sit-down pizza, typically reserved for special occasions. And it's a hearty meal because Chicagoans basically live in the Night King's ass. Sorry for the visual. Anyway. We eat thin crust, too, damn it. Square pieces for the win. (Editor's note: As a Chicagoan, I concur. Nobody's eating deep dish on the daily, and frankly, we've always considered it a pie. We even have our own signature style of cutting thin crust! — Maiysha)
"South Side was born from a desire to make a show about the place Bashir grew up," South Side creators, stars and executive producers Bashir Salahuddin (Glow) and Diallo Riddle (Marlon) told The Root. "What people currently know about the South Side is a small piece of a very large pie. Yes, our neighborhoods have challenges, but we also have a lot of hope and love. And importantly, we love to laugh. There is joy on the South Side and the many Chicagoans who made this show, both in front of and behind the camera, are eager to share that joy. Our hope is that the South Side, and the city, will be uplifted as the world comes to learn that the South Side is funny as hell."
South Side Chicago is funny as hell. And this is coming from a native and previous longtime resident (prior to moving to Los Angeles almost 4 years ago). (Editor's note: Fellow and current South Sider—and we're hilarious.)
Along with Bashir and Diallo, South Side stars Sultan Salahuddin and Chandra Russell. The show's first season will also feature stars such as Lil Rel Howery, Nathaniel "Earthquake" Stroman, Jeff Tweedy, LisaRaye McCoy, Kel Mitchell and Ed Lover. Howery, Stroman, McCoy and Mitchell all hail from Chicago/the Chicagoland area. So Chi, indeed.
South Side premieres Wednesday, July 24 at 10:30 ET/PT on Comedy Central.