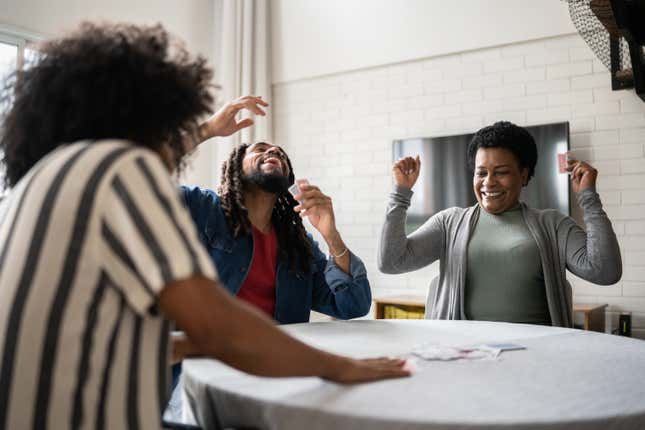 If your parents ever told you that sitting around playing cards in college would get you nowhere, you just may get to have the last laugh.

Comedian London Hughes Talks New Book, Parents Watching Her Very Sexual Comedy, & Beyoncé
As part of their plan to promote the release of their new game, Uno Quatro, toy company Mattel is hiring a "Chief Uno player." And the salary is a pretty impressive $277 per hour. Next to spades, Uno is the ultimate Black cookout game, so if you're ready to finally get paid to throw down your Draw 4s on a mofo, read on.
Beginning September 13, the Chief Uno player position is a four-week opportunity that pays $4,444 per week. The only catch is that the employee won't be sitting around playing with their friends over drinks and snacks. Instead, the person will serve as sort of an Uno ambassador, playing the new game with strangers around New York City while conducting interviews and posting live streams to social media.
Uno Quatro is a slightly different version of Uno that has a little bit of a Connect 4 vibe, combining the challenge of getting four-in-a-row with the strategy of matching color or number.
"We're thrilled to offer a position to the ultimate Uno player to help introduce our brand-new game, Uno Quatro, to the world," said Ray Adler, the global head of games at Mattel, in a statement.
If you think you've got what it takes and want to throw your hat into the ring, you must be a US citizen at least 18 years or older. Mattel is looking for someone who doesn't mind sitting for long periods of time and who can carry 50 pounds or more to set up tents for play around the city.
Mattel is asking all Uno-loving candidates to submit their applications in a video on TikTok before August 10.
And the applications are already rolling in:

Now if only we could get them to post a job for "Chief Spades player."