I'm not Wale's biggest fan, but the man can make a hit song. He has several of them. If you listened to the radio at all in 2011, you heard "Lotus Flower Bomb" multiple times a day. His verse on Waka Flocka Flame's "No Hands"? Stellar. I still know it word for word. He's got hit albums, hit songs and critically acclaimed mixtapes, and he's even been nominated for a Grammy. Wale, from the outside looking in, has had a pretty stellar career in hip-hop.
So his response to a question on Twitter about being mentioned among his contemporaries seems odd to me.
The question, from Twitter user @Realeec, says, "Do you think your expressive passion for the music hurt/prevent you from being mentioned with the rest in your class?"
Wale is typically pretty good about being accessible on social media, and I'm pretty sure this was a question he liked because it allowed him to get a few thoughts out. His response?
G/O Media may get a commission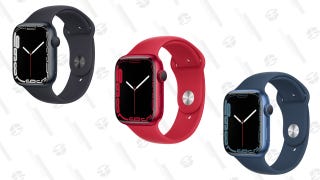 Up To $45 Off
Apple Watch Series 7
"It hurt me greatly . Also me being a dark skinned (not half white) rapper direct decent from Africa did too .. but let's not go there."
Eh, let's go there. Let me start by saying that I do not think he's taking shots at anybody. And by "anybody" I mean J. Cole, Logic and Drake, three successful and mixed (or half-white) rappers. I think he's stating his version of the truth. I think it's an odd version of the truth, but Wale knows what Wale knows. But we'll get back to that. I'm also not sure in what ways he's been hurt greatly, but we'll get to that.
So who are the rappers in Wale's class? Wale got his start in the late 2000s, so I'll put him in the class with Drake, Cole, Kendrick ... basically everybody listed on Big Sean's "Control." Which is actually a pretty stellar group of artists, if you think about it: Jermaine Cole, Big K.R.I.T., Wale, Pusha T, Meek Mill, A$AP Rocky, Drake, Big Sean, Jay Electron', Tyler, Mac Miller.
That whole group, including Logic, are actually all successful, each in their own ways. We'll just pretend Jay Electronica isn't there because I know many of us feel a way about his career. Is Wale a better rapper than anybody on that list? To me, yes. Is he worse than anybody on that list? To me, yes. Some of this is subjective (for instance, I typically enjoy a Big Sean verse more than almost anybody else's on this list). I actually think he does get mentioned among those artists. In fact, I know I've personally had several debates with folks about Wale's place in the current landscape and what tier he's on, so to speak.
J. Cole is considered a first-tier rapper by a lot of folks, and I think he's the most solid B student of all time. And I think Wale and Cole are in the same lane. Logic's numbers and fan base have him as one of the greats, but I think that while he's a stellar rapper, his albums feel very derivative; plus, his insistence on "not focusing on race" by focusing entirely on "not focusing on race" gets old quickly. But his fans love him. Point is, I think Wale does get mentioned with those cats. Is he getting mentioned with Drake? No. And he shouldn't. Drake's outta there.
So what does harm look like? I'd argue that Wale's had one of the more stellar careers as an artist in hip-hop. Harm would imply that he's suffered in ways that his contemporaries haven't, and for artists, I'd think that would be measurable in chart success. So let's check the tape.
According to Billboard, Wale's got 19 songs in the top 100. He's got a No. 1 hip-hop song ("Lotus Flower Bomb") and five top 10 singles. He's got TWO No. 1 albums and THREE in the top 10. I mean, shit, what rapper wouldn't kill for that? Logic, one of the half-whites (not to be confused with Virgil Abloh's Off-White), doesn't stack up to that on the singles. Where Logic does win is that every one of his albums has debuted in the top 10, but he doesn't have a single No. 1 like Wale.

Cole has four Hot 100 hits and 14 top 10 hip-hop chart hits. Now, where Cole really wins is that each of his five albums has hit No. 1 on the album charts. Cole is winning. He's also an artist with a rabid fan base that the rest of us are confused about.
I'm not even going to include Drake here because it's just unfair. Wale's implication that being dark-skinned (and not half-white) hurt him somehow means that it helped those who are successful, which unfortunately leaves Kung-Fu Kenny off the table, and that little nigga just won a Pulitzer. I'd wager that he's more successful than all of them without even listing his accolades. I also can't wait for the "Wurlitzer" line in a song just so he can talk about winning his Pulitzer.
Big Sean has also had tremendous chart success (top 10, Hot 100 hits, multiple hip-hop No. 1 hits, No. 1 albums, etc.). And I'd argue that he gets left out of being mentioned more than Wale. Big Sean has somehow become super clownable, for whatever reason.
So I think it's a pretty easy case to make that being dark-skinned (not half-white) hasn't really hurt Wale. Definitely not on the charts. Hell, look at artists like DMX and Kanye West. I'm pretty sure both would be considered dark-skinned. Other not-half-white rappers seem to be doing just fine. Especially those in Wale's class, like Big Sean and even Pusha T, who has catapulted himself into the role of everybody's favorite rapper.
So what about being dark-skinned (not half-white) AND African? Listen, I'm not sure what barriers to entry Wale has faced in his hip-hop struggle. But I legitimately think he's projecting and making a problem where one doesn't exist here. I don't want to downplay the role of xenophobia in hip-hop; I just also didn't know that was a thing, because as far as I can tell, nobody gives a shit about him being African. Maybe early in his career it made an impact, but he also managed to get to the top. Being from Washington, D.C., might have had more of a negative impact on his career than being African.
Also, Wale is entirely ensconced in hip-hop culture while embracing any ability to utilize his being Nigerian where he can. He's used Fela Kuti samples, and it's an easy argument to make that go-go's percussion-heavy sound, which Wale uses frequently, is influenced by Africa. His song "Pretty Girls" was go-go inspired, and it was a hit single.
Look—I'm sure Wale, in his world, has been hampered by many things. I'd also argue that 9 out of 10 of those things are his perceived insufferableness. He has a reputation that precedes him. You can call it expressive passion, but to many folks, it comes across as just being a dickhead. At least he can acknowledge it. But he's also managed to have hit singles and albums despite it.
The other part is this: I like Wale a lot more than I used to, but I'm still not really feeling most of his music. His hit songs are layups. His catalog, though, is very uneven with several attempted concepts that often fall flat. He's not alone there; lots of rappers have that problem. Hell, everybody doesn't love Kendrick's DAMN. album at all. Logic sucks at concepts at times, too.
But if Wale is not mentioned among his class, it's because of that—not because he's African or dark-skinned. He's in an art form where the vast majority of success stories are black folks who are not half-white. And most rappers claim Africa. Jay-Z even said on "99 Problems," "Half a mil' for bail 'cause I'm African." Rappers love to tie themselves to the Motherland, and he's going to be penalized for it? Eh.
Now, I don't know what Wale thinks his career should have looked like. Perhaps he thinks that if he looked like Al B. Sure and was from Memphis, Tenn., he'd have Jay's career. But not with his catalog. It's just not that strong. But I guess all rappers think they should be the greatest of all time.
Methinks Wale is being expressively passionate, but the truth is ... it's a tweet about nothing.
See what I did there?