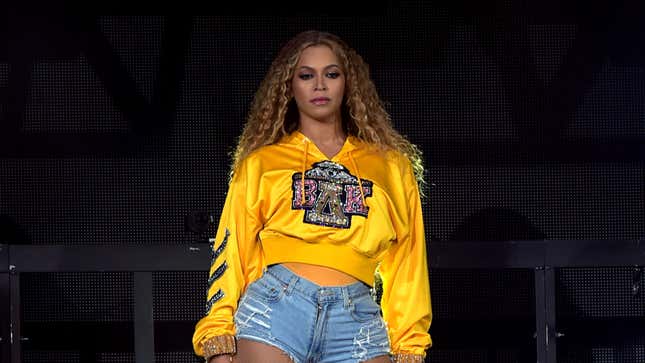 Updated: 4/19/19 at 3:42 p.m., ET: There is some discrepancy regarding who was paid what when it comes to Beyoncé and Ariana Grande performing at Coachella. The Blast reported that according to their sources each artist was paid the same amount for two weekends worth of shows—$4 million per show, which still bears some cause for pause as there really isn't a comparison between the two.
Fighting "Lie-abetes": How To Spot And Combat Disinformation and Conspiracies In Politics | The 411: Part 2
Ponytail is talented, but Beyoncé she is not.
So far neither camp for either artist nor Coachella, has confirmed any of the stories around the discrepancy.
The Root has reached out to representatives of Coachella for comment and will update this story as it develops.
Earlier:
One year later, Beychella is still on the minds of many. With the release of her new Netflix documentary, it is evident that Beyoncé has made a cultural impact on our society. The performance celebrated every facet of blackness imaginable and paid homage to those who paved the way for so many, but even after this elaborate performance, reportedly Ariana Grande was paid two times more than Beyoncé for a lackluster performance this year.
Honestly, I thought they'd have to cancel Coachella after Bey dubbed it Beychella, but here we are folks. We all knew that there was no way on God's green earth anyone could top Bey's performance. I am actually insulted that they would have all of these lovely people go into that hot ass dessert and have the nerve to not give them any semblance of Bey, but to each his/her own.

According to the folks over at Variety, Ariana, aka "Ponytail," was paid $8 million in comparison to Bey's $4 million that she made the prior year. Now I am a fan of Ponytail; she can blow. But it is laughable to think that she would be on the same level as the woman who invented stamina.
"Because Beyoncé came in last year and did her thing and kind of set the bar, basically Coachella becomes a competition, which is ridiculous," Ponytail's production designer told The Hollywood Reporter. He continues by saying "and artists who are strong should just come in and do their own thing and just be who they are. And that's pretty much what Ariana has done. There's not like there's a bunch of gags. She's being Ariana and singing and doing her thing."
Basically what I got from this quote was that we should celebrate mediocrity; which, honestly, is on-par for our society.
As black people, we are constantly told that we have to work twice as hard to get a fraction of what our unseasoned counterparts have. We have to pull out tricks and shows to appease the masses, while Heather and Billy are applauded by just merely batting an eyelash. It is exhausting.
After Ponytail's performance, fans dubbed it Arichella; which in my opinion sounds like a species of Sasquatch that has been hidden away from human eyes. Beychella, being the performance that it is, did in fact receive less than Ponytail, but it birthed a Netflix documentary and a new 40 track album that presumably added up to more than what Ponytail got for her performance this year.
Bey was right; the best revenge is always your paper.
Editor's Note: This story and its headline were edited to more accurately reflect developments in this story around a pay discrepancy.