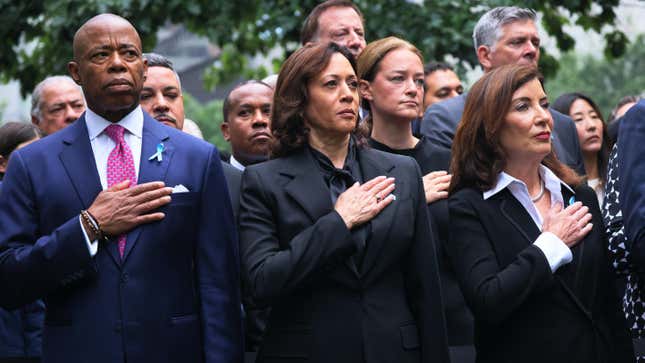 On Monday, Vice President Kamala Harris commemorated the 22nd anniversary of 9/11 by representing the administration at a ceremony located at ground zero.
The Biden And Trump Classified Documents Scandal Explained
The event took place at the National 9/11 Memorial and Museum, with politicians like Gov. Kathy Hochul, Mayor Eric Adams and Senate Majority Leader Chuck Schumer attending as well.
President Biden, on the other hand, will delivered remarks to more than 1,000 service members and first responders as well as their families at Joint Base Elmendorf-Richardson in Anchorage, Alaska. Biden just finished trips to the G20 summit in India as well as Vietnam.
He has faced criticism from the right for not attending traditional ceremonies in New York, the White House or at the Pentagon. During the first year of his presidency, Biden participated in a ceremony at the National 9/11 Pentagon Memorial in Virginia.
"It's good to remember," he stated at last year's event. "These memories help us heal, but they can also open up the hurt and take us back to that moment when the grief was so raw."
In honor of the anniversary, first lady Jill Biden will laid a wreath at the National 9/11 Pentagon Memorial in Virginia. In addition, second gentleman Doug Emhoff traveled to Pennsylvania for a memorial observance for Flight 93 where passengers thwarted a terrorist attempt to attack Washington.

The 9/11 attacks were the most deadly assault on U.S. soil since the 1941 Japanese attack on Pearl Harbor, Hawaii.