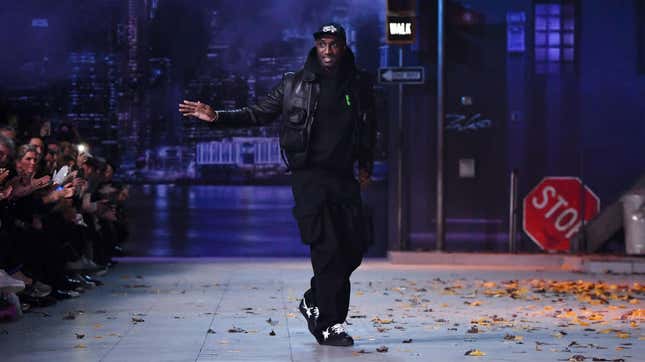 After facing public backlash from photos showing a too-white staff, Off-White™'s creator Virgil Abloh clarifies that he does, indeed, have plenty of Black Friends.
Courtney B. Vance in Heist 88 Is Our Black TV Pick of the Week
In a statement released to Hypebeast, Abloh says:
My design team is diverse as the world is big. The video shown was an Off-White ™ dinner at the headquarters in the city of Milan, Italy. This party was to celebrate the hard work of the local Italian team.
Jay-Z faced similar backlash in 2015, when photos of his team at Tidal revealed an office full of Norwegians in Norway. Can an all-white workplace be explained away by circumstance of locality? Some are still left wondering if it's impossible for black people to live locally in Milan or Norway, or if no black person is willing or able to relocate for a dream job.
In the wake of these allegations of a pale-faced workplace, Abloh also responded by adding a lengthy Instagram story of his bevy of black friends, runway models, team members, and other collaborators to show his work's full range of melanin.
The controversy comes at a time where more black people are considering the concept of the glorified "seat at the table" and what that actually ends up looking like in reality for black people looking to advance in various industries. In some instances, that first black person to make it where no other has before opens the gates for more diversity, more inclusion, and black equity across all sectors; but in other cases, sometimes little to nothing changes at all. The Root's Michael Harriot asks "how can people who are already inside certain industries bring more of us 'inside'? Like, it's cool to kick in the door, but can you create more seats at the table? Otherwise I don't necessarily see the point in celebrating unicorns."
Abloh's latest Instagram story includes a screenshot of a 2017 Complex report highlighting his work helping Chicago's at-risk youth, a Vogue article detailing his support for an immigrant soccer team in Paris, and his collaboration with Serena Williams, among many others. Within the two-dozen or so melanated photos posted, he also teased his upcoming Off-White x Nike campaign starring Caster Semenya, the South African Olympic gold medalist recently banned for her natural womanhood.
Off-White ™'s rep gave this response:
"When questioned about diversity, Virgil Abloh takes pride in being African and American. His design team is diverse, and his practice has been built on making the art and design industry an inclusive community. Fellow designers like Samuel Ross, Heron Preston, No Vacancy Inn – by Tremaine Emory and Acyde Odunlami, Everard Best, Photographer Fabien Montique, amongst many others have been given a platform via Off-White ™. These are just a few of the many global voices and people sitting at the table and helping evolve the brand. Off-White ™ is a black founded and owned business."

"He wishes to use this moment of being questioned to be a moment of reflection within the industry to showcase the talents behind their design entities and push to have a design community that represents the outside world."
Do you believe Virgil Abloh is doing all he can in his position to diversify the fashion industry? Let us know in the comments below.