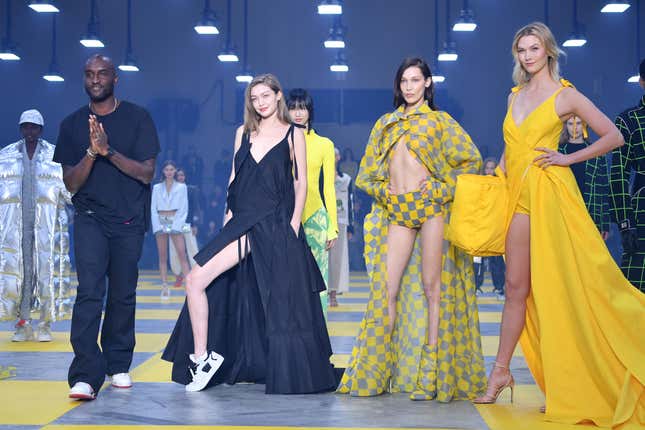 He has been hailed as a gamechanger in the fashion world, but is Virgil Abloh really changing the game for other black talents? That was the question raised by a now-deleted Instagram story published by Abloh on Tuesday, chronicling a dinner party thrown for his Milan, Italy-based staff.
Here's How Medicaid Expansion Can Play A Role In Black Maternal Healthcare
Screenshots shared by Abloh of both his graphic and art direction teams, published by Fashionista, showed not one black member in the bunch; a visual many fans took umbrage with. Further perusal of the Instagram pages of Abloh, members of his team and the hashtag #offwhiteteam seemed to confirm this concern, as in photos taken at the party in question, the team office, his atelier, a photo shoot and the Off-White showroom showed little to no people of color.
"So you clearly don't believe in diversity," one follower commented on a subsequent post by Abloh.

The lack of diversity presents a sad irony when one considers that Abloh has been hailed for breaking barriers in luxury fashion—first with his own label, Off-White, and now, also the first black designer to hold the position of creative director of menswear for Louis Vuitton. While based in Italy, the overwhelming whiteness of his Off-White staff is even more damning in the context of Abloh's focus on streetwear, which primarily draws from the style and influence of black and brown youth.
"I've always been interested in documenting our 'now,' and admire how the younger generation is making change happen," Abloh told The Cut last year for an article garnering the perspectives of black talents in the fashion industry. "I'd love to see the industry grow organically to represent a wider portion of the world and the people in it. Opportunity can make a world of difference."
But by all appearances, those opportunities may not even be present in Abloh's own staffing. While fellow luxury labels Gucci and Prada are launching ambitious diversity initiatives to right their wrongs and afford more talents of color seats at their table, the world's premier black designer (currently only rivaled by Balmain's Olivier Rousteing) seems to be upholding the status quo.
"Black people please learn not [to] support labels and businesses [that] don't support us," another Instagram commenter wrote. "136 members [at the Christmas party] and not one person of color, he clearly sees no value in the creatives that look like him."

Speaking with Complex in January, Abloh reflected on his stratospheric rise within the industry he once desperately wanted to become a part of. Referring to a pre-fame picture taken a mere decade ago (featuring friend and colleague Kanye, among others), Abloh said:
"... I couldn't even get into a Louis Vuitton show at that point, you know. Like, going into a store sometimes could have been difficult."
Given Abloh's own awareness of how difficult it was for him to gain entry into a European-dominated industry, it's not disingenuous to ask how he's helping other black creatives do the same. But while the designer has yet to comment on the apparent diversity problem in Off-White's ranks, as this article was going to press, Abloh cryptically posted a series of pictures touting the launch of his upcoming denim collaboration with Murder Bravado, the label created by black American streetwear designer Ev Bravado (Everard Best).
It's worth noting that in a January interview with Vogue, Best cited Abloh as one of his mentors. On Thursday, as the backlash against Abloh reached a fever pitch, Bravado shared a cryptic tweet of his own, writing: "I really wish y'all would stop talking about things you know nothing about."
They say real g's move in silence; perhaps Abloh is quietly doing the work. But in a moment when the fashion industry is desperately in need of a makeover, it's fair to wish its top black designer would take the lead.