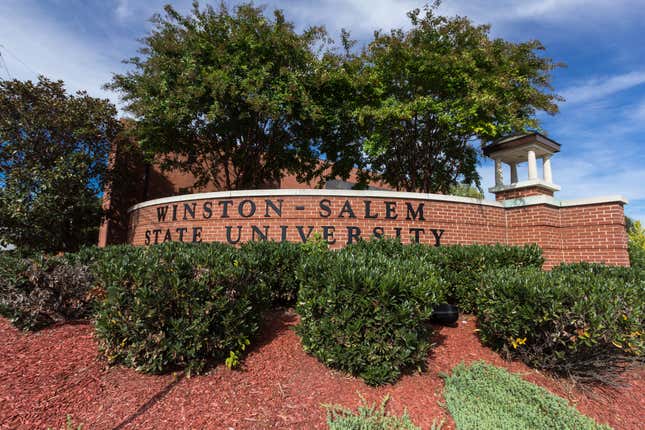 Updated as of 12/21/2022 at 10:00 a.m. ET
The Winston-Salem State University student recorded on video being arrested inside a classroom has been charged with disorderly conduct, according to the Winston-Salem Journal. Following the incident, students criticized the university's response to the ordeal.
Georgia Nurses Thought It Was Smart To Mock Patients on TikTok
The Journal reports 20-year-old Leila Hamoud was charged with misdemeanor of disorderly conduct. She was booked at Forsyth County magistrate and released on a written promise to appear in court. Her next hearing is Jan. 25.
Chancellor Elwood Robinson said in a statement that this situation was not an example of the "weaponization of police" against Black people though many students begged to differ. Robinson said the school is exhausting every resource to bring a resolution.
"We strive for a safe, inclusive, thriving, and intellectual community where all our faculty, staff, and students feel respected and supported. To that end, we will take swift and appropriate measures against any situation that contradicts those ideals," read the letter.
Previous reporting...

In the TikTok (which has since been deleted), Hamoud is seen being pinned down on a desk by two campus police officers as her classmates record. Hamoud is seen with tears rolling down her face and demanding to know if the handcuffs were a necessary solution to the prior conflict. According to the Charlotte Observer, Professor Cynthia Villagomez got into a heated exchange with Hamoud after she declined to redo parts of her final project just hours ahead of presenting.

"You're gonna get me taken out of here because I won't apologize? You started yelling at me. You tried to embarrass me about my paper. You're a terrible teacher," Hamoud shouted toward the professor.
However, Villagomez didn't call for back up. A school employee who overheard the commotion reported the incident to campus police, taking this exchange to a whole new level.
Watch the video via Twitter:
In another video, Hamoud is seen standing in the hallway with the police explaining she was told, "either you apologize or we take you out in handcuffs." Since when is refusing to apologize worthy of arrest? Hamoud also said at the time of her arrest she was never informed of her charges.
According to Hamoud and her classmates, she wasn't posing a threat but instead felt threatened. As a result of the incident, students took to social media and RateMyProfessors.com to condemn the professor for allowing her student to be taken out in handcuffs, per the report.
Many college students can attest to having a spout with a disrespectful professor. Though, getting the police involved in a situation with a Black student looks more like an abuse of privilege and power than trying to de-escalate a simple argument.