Swathed in a sexy, brick red, butter-leather jacket and dangling earrings, with a dash of cleave and coiffed in a short haircut borrowed from the files and styles of RiRi—clearly appropriate for after-5 shenanigans—Viola Davis is worlds away from the more modest stylings of such roles as Aibileen in The Help and even the early parts of her portrayal as James Brown's downtrodden mother in this summer's Get on Up.
In ABC's How to Get Away With Murder, Davis is all smoky eyes and jazzy outfits that complement her sex appeal and cinch her waist. Davis delivers a more determined spin on Olivia Pope's harried-yet-resolute stride. And perhaps this determined and confident gait is perfected in the "Shonda Rhimes School of Acting" before or after nailing how to deliver arresting and impassioned monologues—as Davis does in announcing, upon entrance to her classroom, that "clearly your karma must be out of balance to be assigned to my class."
Davis' beauty is fittingly played up, and we likey. Ratings success assumed, could there be a clothing line in her future that would be the edgy, weekend answer to Olivia Pope's buttoned-up neutrals?
Phaedra Parks defending Bobby Brown, she ain't. More like Michonne à la The Walking Dead, sans samurai sword and instead armed with a law degree and L'Oréal, Davis gets to showcase, for the small screen on a weekly basis, all the depth and layered presence that she characteristically brings to big roles as defense attorney and professor Annalise Keating.
As Keating, Davis is intellectual and sexy, and her acting prowess all but shouts that this television breakout-role moment was inevitable. How to Get Away With Murder is long overdue for Davis, the House of Lies to her Don Cheadle.
G/O Media may get a commission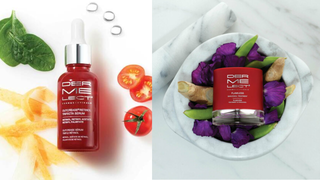 Save $19
Retinol Renewal Kit
Toggling between the past and the present, the drama opens with a college pep rally and quickly cuts to a group of multiculti college kids (I see you, ABC, making that push for diversity casting) frantically ripping through the woods. They're trying to decide how in the sassafras tea are they going to tie up some loose ends in a just-committed murder, an early nod to the premiere's title. A coin toss decides if they'll spend the night burying the body of the to-be-determined corpse.
There are flashbacks: A murder—obviously—surprises, and unexpected twists ensue with the case as the students use their guile to vie for top dog status with Keating. We also soon learn that the professor's love life is more than a little complicated as we stumble across a muscled, boxer-briefed Chocolate Thunder fellow giving her a lil' thug passion after-hours on her office desk, a "Hey, girl, hey" discovery that we're bookmarking for future episodes. Things get curiouser and curiouser when we learn that who he ain't is her husband, who turns out to be a not-quite-as-scrumptious—or pole-worthy—older white man.
Even though Rhimes isn't the creator of the show, she's counted among its executive producers. And while the dialogue doesn't prove to be heavy on rushed, stop-and-go conversations crashing into one another, the ShondaLand touch is still evident, with its strong protagonist and a tightly wrought plot that's hard to predict down to the last seconds. While it is serious, fast-paced and dark, it's a smidge more sudsy, more like network-mate Revenge than crime dramas such as, say, The Good Wife.
As is often the case with complex characters, Keating excels in certain areas of her life but draws substantial side eyes in others. While she rocks it in the courtroom and inspires some pearl-clutching moments, her proclivity for defaulting to the hint of polyamory and her feminine wiles is a bit off-putting when she's trying to get her way.
This is especially true when she seems practically on the verge of a body roll as things get a little handsy with Wes Gibbins (played by Alfred Enoch) as she implores him to keep a secret. Midlife crisis? Trying to see if she's still got it? Even though I'm all for a flawed character, seeing someone who is obviously accomplished and highly intelligent debase herself to such methods to get what she wants kinda sucks.
I like the sexy Keating who doesn't become the sultry Keating. You would almost think her more wily than that, especially since she's old enough to be his mom. But there is something very human and real about the moment that feels authentic enough that it doesn't wake me from the fictional dream.
As for the other characters, there's a lot to keep track of, but we have an introductory sense of most of them. I do, however, need the Gibbins character to get a haircut because it's giving me so much Larenz Tate in Inkwell, and I hate to see a black man with unkempt, fluffy tufts of hair on his head, especially when it's almost disrespectful to all the other black men who would love to still have hair to Caesar to precision.
I'm curious to see how this show, which is essentially the antithesis of ever-popular whodunits and forensic shows in the vein of CSI: Everywhere and Law & Order: Everything, is received.
Davis' character is strong, smart and cunning, and also rife with secrets. Methinks that her character is a lot like her real-life persona (minus the affair, of course), since I imagine that sharing space with her or her character would make you want to stand up straight with head held high, but that she'd also be a lot of fun when she's not working. It's that duality and mystery that sustains her, draws you in and has her primed to be the star of what I suspect will be a successful new series.
Akeya Dickson is a writer and social media lover who blogs at Dopalicious District. Follow her on Twitter.