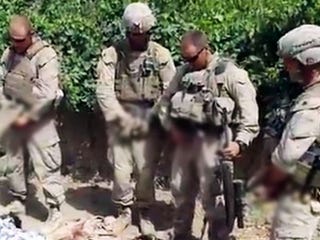 A video released yesterday allegedly showing U.S. Marine Corps troops urinating on dead Taliban fighters has sparked outrage.
The shocking 39-second video shows four Marines in full combat gear standing over three dead, bloodied Taliban fighters and cracking jokes while urinating on them.
"Have a great day, buddy," one of the men says. "Golden — like a shower," another jokes.
Upon release of the video, the Marine Corps immediately released a statement. "While we have not yet verified the origin or authenticity of this video, the actions portrayed are not consistent with our core values and are not indicative of the character of the Marines in our Corps. The matter will be fully investigated."
Department of Defense spokesman Capt. John Kirby called the behavior disgusting. "Regardless of the circumstances or who is in the video, this is egregious, disgusting behavior. It's hideous. It turned my stomach."
Afghanistan President Hamid Karzai released a statement voicing his displeasure. "This act by American soldiers is simply inhuman and condemnable in the strongest possible terms," he said. "We expressly ask the U.S. government to urgently investigate the video and apply the most severe punishment to anyone found guilty in this crime."

The inflammatory actions of these troops contribute to the negative view that many in the Middle East and elsewhere have of Americans. In a world where a video can be easily uploaded even through a phone, provoking a range of reactions worldwide, these Marines have endangered the lives of the very people they protect. 
View the video here.
Read more at the Daily News.