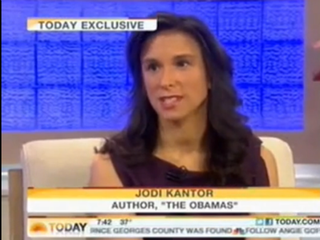 Author Jodi Kantor's new book, The Obamas, is getting attention for its claims that there are tensions between White House staff and the first lady.
On the Today show, Matt Lauer pressed the author about her reporting, which the White House has called "an overdramatization of old news," and asked her whether she'd taken any "poetic license." Kantor responded:
"The book is mostly reported through top aides and close friends of the president and first lady. I'm one of the only people to get access to the East Wing and the first lady's staff there. What I found is that aides and friends were able to tell stories that the Obamas don't talk about, like what happened the first time they tried to go home to Chicago."
As with any book about the inner workings of the White House, there's no way those of us without the type of access Kantor says she had can ever really know whether the stories are exaggerated. Is The Obamas still worth a read?
Watch the segment, courtesy of NBC:
Read more at Mediaite.