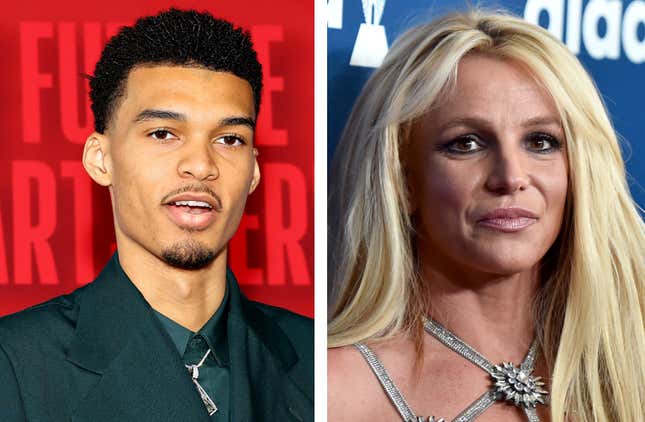 Updated 7/7/23 at 3:46 p.m. ET
The weird interaction between NBA rookie Victor Wembanyama and pop star Britney Spears has come to an even weirder conclusion. According to The Associated Press, the Las Vegas Metropolitan Police Department has ended its investigation and "no charges will be filed against the person involved." "Police say surveillance video shows Spears inadvertently hit herself in the face after her hand was pushed off Wembanyama."
Ain't No Mo' Star, Marchánt Davis, Plays That's So Random
TMZ obtained video of the incident and it does show the singer attempting to tap him on the shoulder, however since Wembanyama is 7-foot-5, she doesn't quite reach that high. This would account for the disparity in their accounts, as their drastic height difference led to different experiences. When the security guard swats her hand away, the slap can be heard, but from the angle of the video it is unclear whether he hit her face or she slapped herself due to the force he used.
Hopefully, the quick conclusion to this story will allow both of them to move on from this situation.
On Friday, however Britney went to her instagram to react to it all. She said the industry has allowed her to be around loads of famous people, but she's never seen a security guard slap another person. She does say she is not a victim and realizes her reaction was bad, adding she is still a fan of Wembanyama who she says is innocent.
See original story below

Victor Wembanyama hasn't played his first official NBA game yet, but he's already found himself in the middle of his first major celebrity scandal.

On Wednesday, the NBA's No. 1 draft pick landed in the headlines when an interaction between his security team and pop star Britney Spears ended with the "Oops!...I Did It Again" singer allegedly slapped in the face. Wembanyama, who is in Las Vegas to play in the NBA Summer League, detailed his knowledge of the situation while speaking with ESPN's Cassidy Hubbarth.
"Something did happen, a little bit, when I was walking with some security from the team to some restaurant," Wembanyama said. "We were in the hall. There was a lot of people, so people were calling [at] me, obviously. There was one person who was calling me, but we talked before with security."
"I couldn't stop. That person was calling me, 'Sir, sir,' and that person grabbed me from behind," he continued. "I didn't see what happened because I was walking straight and didn't stop. That person grabbed me from behind—not on my shoulder—she grabbed me from behind. I just know the security pushed her away. I don't know with how much force, but security pushed her away. I didn't stop to look so I could walk in and enjoy a nice dinner."
The 19-year-old French phenom didn't realize who he had encountered until he saw all the headlines. Spears has a long-running Las Vegas residency, so she's a regular in the city.
"I didn't know for a couple hours, but when I came back to the hotel...I thought it was no big deal, and then security of the Spurs told me it was Britney Spears," Wembanyama said. "At first, I was like, 'You're joking,' but yeah, it turns out it was Britney Spears. I never saw her face. I just kept walking straight."
The Las Vegas Metropolitan Police Department confirmed to the Los Angeles Times that the "Toxic" artist filed a police report on Wednesday. "On July 5, 2023, at approximately 11 p.m., LVMPD officers responded to a property in the 3700 block of Las Vegas Boulevard regarding a battery investigation," police said in a statement on Thursday. "The incident has been documented on a police report and no arrest or citations have been issued. No further details will be provided at this time.".
The singer released a statement on the incident on social media on Thursday, noting that it was an "embarrassing" story, but that she wants to "urge people in the public eye to set an example and treat all people with respect."
"Traumatic experiences are not new to me and I have had my fair share of them. I was not prepared for what happened to me last night," she wrote. "I recognized an athlete in my hotel lobby as I was heading to dinner. I later went to a restaurant at a different hotel and saw him again. I decided to approach him and congratulate him on his success. It was really loud, so I tapped him on the shoulder to get his attention. I am aware of the players statement where he mentions 'I grabbed him from behind' but I simply tapped him on the shoulder. His security then back handed me in the face without looking back, in front of a crowd. Nearly knocking me down and causing my glasses off my face."

"I get swarmed by people all the time," she continued. "In fact, that night, I was swarmed by a group of at least 20 fans, my security team didn't hit any of them."

"This story is super embarrassing to share with the world but its out there already. However, I think it's important to share this story and to urge people in the public eye to set an example and treat all people with respect," she added.

"Physical violence is happening too much in this world. Often behind closed doors," Spears wrote. "I stand with all the victims and my heart goes out to all of you!!! I have yet to get a public apology from the player, his security or their organization. I hope they will…"

"I cherish the tremendous amount of love and support I am receiving at the moment," she concluded. "Thank you to the Las Vegas PD and the detectives for their support."
The Spurs have not commented on the incident and Wembanyama is set to make his debut with the team on Friday. As he prepares to officially begin his NBA career, it will be interesting to see how fans and other players react to this situation.