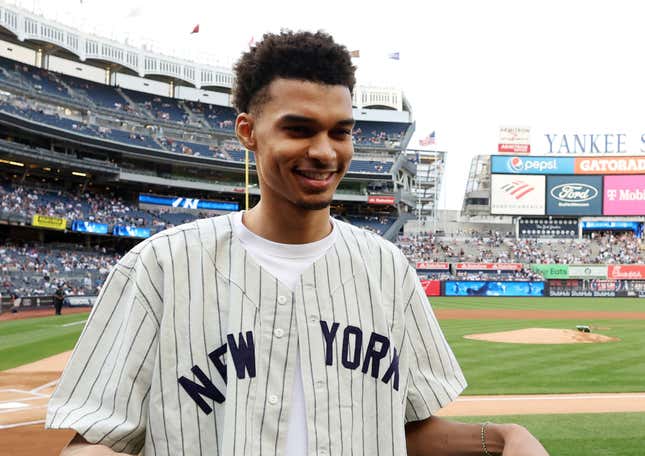 If you've been paying attention to the hype ahead of Thursday's 2023 NBA Draft, then you know all the experts have already proclaimed 19-year-old French prospect, Victor Wembanyama, the future of basketball. He's the presumptive No. 1 pick by the San Antonio Spurs. The 7-foot-5 center has the ball-handling and shooting skills of a guard and is universally considered the best prospect since LeBron James. Even the Los Angeles Lakers superstar called Wembanyama an "alien." So is all this hype too much for the young star? Apparently not. During his pre-draft press conference on Wednesday, Wembanyama explained why he's ready for all the pressure headed his way.

How A Coffee Brand Scaled Up Its Business & Scored A Partnership With The NBA | Securing the Bag: Part 2
"I don't let this, all this stuff, get into my head because I got such high expectations for myself that I'm immune to all this stuff. So I really don't care," he said.
The Spurs organization are no strangers to helping talented international stars make the transition to the NBA. Lately, the team hasn't been the dominant champions they once were, but Wembanyama could be the spark the Spurs need to lure notable free agents, and get back in playoff contention.
"For me, San Antonio is synonymous with winning," Wembanyama said. "When the Spurs got the No. 1 pick, I was just thinking, I was feeling lucky that they had [the] pick as a franchise that has that culture and that experience in winning and making, creating good players. So I really can't wait."
The problem for most rookies is figuring out where their game fits in the NBA. In a lot of cases, they instantly go from being the most important player on the team, to someone who only gets on the court in garbage time. The French star doesn't see himself experiencing these growing pains when he hits the NBA.
"You saw me play at 13, and I've played the same," he said." I've been playing like that. And honestly I'm just trying to be myself. You said I'm a hybrid. I'm myself. No one is going to stop me from dribbling the ball, bringing the ball up and shooting threes. Nobody is going to stop me from doing that. Even though sometimes coaches in my career would try to stop me from doing that because they had to win right now. So it was really an everyday fight to stay true to myself, and, yeah, this is something that I'm never going to lose, for sure."
When you're as good as Wembanyama, you're allowed to be confident. But something tells me that longtime San Antonio coach Gregg Popovich may have some thoughts on whether his game stays exactly the same.
The 2023 NBA Draft airs live June 22 at 8 p.m. ET/5 p.m. PT on ABC. If you want to check out Victor Wembanyama for yourself, the San Antonio Spurs kick off their summer league schedule on July 3, with many games available on NBA TV.