A proposed bill allowing all Virginia law-enforcement officers' names to be withheld from the public would be the first of its kind in the country and is being decried by police-accountability groups and those who believe in freedom of the press, reports the Virginian-Pilot. 
A Jan. 13 proposal put forth by Republican Virginia state Sen. John Cosgrove—S.B. 552—excludes the names of law-enforcement officials from mandatory disclosure under the Virginia Freedom of Information Act and makes them a personnel record.
Cosgrove, who worked on the bill with the Fraternal Order of Police and the Virginia Association of Chiefs of Police, first said that he was concerned about the safety of undercover officers.
"I think this FOIA exemption is probably needed just because we want to make sure their safety is assured [and] their families are not put at risk just because their information as law-enforcement officers is available," said Cosgrove at a hearing for the bill.
Yet Megan Rhyne, executive director of the Virginia Coalition for Open Government, asked the Virginian-Pilot how Cosgrove's theory would apply because undercover officers never use their real names anyway.
G/O Media may get a commission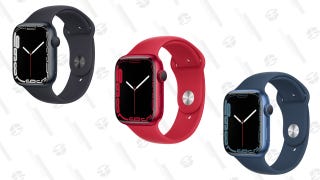 Up To $45 Off
Apple Watch Series 7
Cosgrove later backed off that theory and began citing officer safety generally, reports the paper.
He used an example of the San Antonio Observer, a free African-American weekly that threatened in early February to publish the names and home addresses of all the San Antonio police officers following an officer-involved shooting there. The paper has retracted that proposal.
Ever since the Michael Brown shooting in Ferguson, Mo., in August 2014, police accountability and use of deadly force has become a lightning rod in this country, and many police officers say they feel threatened.
The paper reports that there is currently a bill before New Jersey lawmakers that would allow officials to withhold the names of state police detectives, and that West Virginia lawmakers are considering a measure that shields officers' and their families' contact information from the public. Also, several states have or are examining laws aimed at preventing the release of the names of officers involved in shootings.
But even with that, a Norfolk, Va., police chief thinks the bill is far-reaching.
"I understand the intent of the bill, but I also understand the need for transparency," Sheriff Bob McCabe said. "I haven't read the whole thing, but if it says that no names will ever be accessible, that is a bit broad."
Bill S.B. 552 passed the Virginia Senate 25-15 this week and will soon be taken up by a House of Delegates subcommittee.
Read more at the Virginian-Pilot.