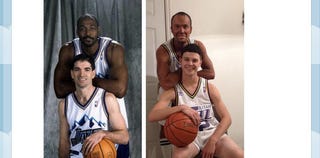 Another day, and another racist blackface Halloween incident. This one might have never been discovered had the Utah Jazz not tweeted out the photo, according to USA Today.
That's right, the official Utah Jazz twitter account retweeted a fan photo in which two white guys set out to re-create a vintage Karl Malone and John Stockton image. The Karl Malone character … well, you get the idea. The photo was taken down shortly after it was released. The Utah Jazz later tweeted, "We apologize for the last retweet/tweet moments ago, we have taken it down as it may be insensitive."
Read more at USA Today.