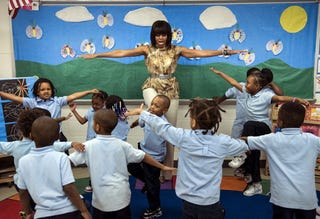 A piece by Leslie T. Fenwick in the Washington Post makes the case that blacks don't control the critical economic levers shaping school reform. She also explains why that's a problem.
The truth can be used to tell a lie. The truth is that black parents' frustration with the quality of public schools is at an all time righteous high. Though black and white parents' commitment to their child's schooling is comparable, more black parents report dissatisfaction with the school their child attends. Approximately 90 percent of black and white parents report attending parent teacher association meetings and nearly 80 percent of black and white parents report attending teacher conferences. Despite these similarities, fewer black parents (47 percent) than white parents (64 percent) report being very satisfied with the school their child attends. This dissatisfaction among black parents is so whether these parents are college-educated, high income, or poor.

The lie is that schemes like Teach For America, charter schools backed by venture capitalists, education management organizations (EMOs), and Broad Foundation-prepared superintendents address black parents concerns about the quality of public schools for their children. These schemes are not designed to cure what ails under-performing schools. They are designed to shift tax dollars away from schools serving black and poor students; displace authentic black educational leadership; and erode national commitment to the ideal of public education.

Consider these facts: With a median household income of nearly $75,000, Prince George's County is the wealthiest majority black county in the United States. Nearly 55 percent of the county's businesses are black-owned and almost 70 percent of residents own homes, according to the U.S. Census.
Read Leslie T. Fenwick's entire piece in the Washington Post.
The Root aims to foster and advance conversations about issues relevant to the black Diaspora by presenting a variety of opinions from all perspectives, whether or not those opinions are shared by our editorial staff.