A University of Virginia adjunct professor is facing backlash after comparing Black Lives Matter to the horrific racism and terror of the Ku Klux Klan, the Washington Post reports.
Douglas Muir, who lectures at the university's engineering and business schools, wrote a Facebook comment that Black Lives Matter is the "biggest" racist organization since the KKK. According to the Post, the comment was written last week in response to a Facebook post about a Black Lives Matter event in Charlottesville, Va.
Since the comment came to light, officials at the university have issued statements blasting Muir's comments and distancing themselves from the lecturer. Muir has since taken a leave of absence, the Post notes, according to UVa.
Even Charlottesville Vice Mayor Wes Bellamy has stepped in, criticizing Muir's comments on social media and calling on people to boycott Muir's restaurant business in the city and offering him cultural training.
"The notion that #BlackLivesMatter can be comparable to the Klu Klux Klan is not only incredibly misguided, but goes to show the lack of cultural awareness that still plagues many professors at our Universities across the country," Bellamy wrote in an Instagram post. "You have my number Frank Muir, I'll await your call so that you can get the cultural training that you need. We can make a day, a week, a month, or however much time of it to get you where you need to be!"
G/O Media may get a commission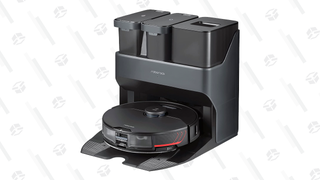 24% off
Roborock S7 MaxV Ultra Robot Vacuum and Mop
Muir is expected to make his own statement, although it is not clear when that will be.
The incident started when a local real estate agent posted a picture to Muir's Facebook page of Alicia Garza, co-founder of Black Lives Matter, who spoke at an event in Charlottesville on Tuesday. The real estate agent said that Garza is "working for dignity for everyone," according to the Post.
Muir replied, stating, "Black lives matter is the biggest rasist [sic] organisation [sic] since the clan [sic]. Are you kidding me. Disgusting!!!" The comment has since been deleted, but a Charlottesville resident took a screenshot of the comments and alerted the university on social media.
According to the Post, the University of Virginia's executive vice president and provost, Tom Katsouleas, in a statement issued Friday, said that he is "disturbed and saddened" by the comments.
"The University of Virginia stands firmly against racism and social injustice of any kind," Katsouleas said. "Statements such as Mr. Muir's do not foster intellectual exploration, nor do they encourage the voices of others."
The same day, officials from the university's School of Engineering and Applied Science denounced Muir's comment as "entirely inappropriate," which was followed by a statement from the Darden School of Business, which also rejeced Muir's comments.
"The personal comments made by University of Virginia adjunct lecturer Doug Muir on his personal social media accounts do not in any way represent the viewpoint or values of the University of Virginia Darden School of Business," the statement read. "A core value of the Darden School of Business is a supportive and diverse community that encourages its members to collaborate and excel."
Read more at the Washington Post.