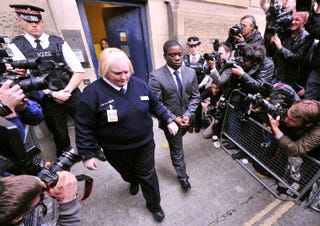 Reuters is reporting that UBS trader Kweku Adoboli faced a new charge when he appeared in court in London on Thursday for a hearing on allegations that made an estimated $2.3 billion in unauthorized trades.
He has now also been charged with fraud dating between October 2008 and December 2010, relating to "reckless and inappropriate trades," Reuters reports.
Wearing a grey suit, the 31-year-old bowed to the public gallery when he entered a packed courtroom at the City of London magistrates court.
Adoboli acknowledged several acquaintances in the public gallery and spoke in a confident voice to confirm his name and address, but made no other statement.
Lawyer Patrick Gibbs said Adoboli was "sorry beyond words for what had happened." He did not enter a plea and was remanded in custody until a further hearing next month. 
Adoboli, the British-educated son of a retired United Nations official from Ghana, was arrested last week.
The case has prompted criticism of the bank's control mechanism and its business model embracing wealth management and investment banking.
Read more at Reuters.
In other news: Troy Davis Executed by Georgia.