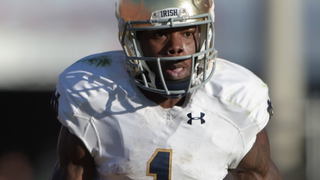 University of Alabama at Birmingham running back Gregory Bryant, found shot in South Florida, has been declared brain-dead, police say.
According to the Associated Press, Bryant, 21, was driving on Interstate 95 when he was shot. He was found around 4:45 a.m. Saturday. Passenger Maurice Grover, 25, was hospitalized with minor injuries.
West Palm Beach, Fla., police spokeswoman Lori Colombino said that Bryant was declared brain-dead at 1 p.m. Sunday and the shooting has been classified as a homicide.
Bryant began his career at Notre Dame, where he rushed for 303 yards and three touchdowns. He left before the 2015 season after he was ruled academically ineligible. He enrolled in ASA College in Florida and was living in a hotel room in Miami while going to school.
In 2014 UAB ended football at the school, citing a lack of financial support. But in 2015 the school announced that it was bringing football back in the 2017 season, and Bryant was its biggest recruit. Bryant was allowed to enroll in January 2016 instead of possibly having to wait an extra year to become eligible elsewhere, and in doing so, he could live on campus and become eligible to play after spending an academic year at UAB, AP reports.
"Coach Clark, he really did me a favor, because I was living in hotels in Miami," Bryant told AP in February. "He said I could come in as soon as the semester was over. Any other school, I would have had to wait another semester and probably be enrolled by December. I just bought into what coach Clark was saying, and I got in with a 2.0 GPA."
Read more at the Associated Press.