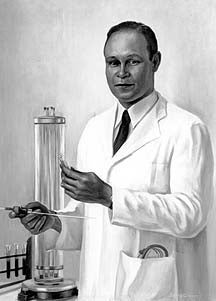 From Howard University:
Dr. Charles Drew, the former chair of the Department of Surgery at Howard University College of Medicine who saved an untold number of lives through his pioneering work with blood, is being honored by the U.S. Navy with a ship.

Secretary of the Navy Donald Winter recently announced that a 689-foot, 42,000-ton Lewis and Clark-class dry cargo/ammunition ship, T-AKE 10, will be named the USNS Charles R. Drew in honor of the physician and medical researcher whose pioneering work led to the discovery that blood could be separated into plasma.

The model for blood and plasma storage developed by Drew in the 1930s and 1940s — separating the liquid red blood cells from the near solid plasma and freezing the two separately — has saved millions of lives over the years and is the same process used today by the Red Cross.