On the one hand, I feel Tyra Banks. The supermodel-turned-entrepreneur has been on a mission as of late, trying to undo the beauty standards set by the fashion industry—standards that pivot on the idea that European features are better than others. 
During an appearance on the Live! With Kelly and Michael show, Banks was shown a video clip of herself in 1995 and gawked at how thin she looked, the Daily Mail reports. But not in a good way. 
"Do you see how skinny I was?" she said. "I was so skinny!"
Kelly Ripa said that Banks looks better now that she is curvier, and Banks agreed, saying that the addition of "some ass," and gaining a few extra pounds, did the trick. 
"I think it's gaining weight. I look like a different person now because I have more weight on my body and face," Banks said. 
Banks said that she doesn't know why the fashion industry thinks that clothes always look better on skinnier, leaner frames. She thinks it's a given that society needs to stop accepting that as fact. 
G/O Media may get a commission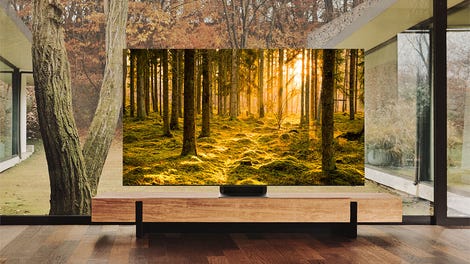 Up to 40% off
Samsung Smart TVs
"I really don't think that's what it is; I really think that designers just think clothes look better on somebody smaller. I disagree," Banks said. 
Kudos to Banks for challenging the standards for which beauty features should be exalted. But I can't help wondering if Banks is pushing back against these standards because she's older and can no longer maintain them (in a healthy way, anyway).
I think it's safe to say that Banks benefited from the beauty standards set by the fashion industry when she was a slender model in the 1990s (although the Daily Mail reports that Banks once said she always yo-yoed around a healthy size 6 even during her heyday).
At any rate, it's easy to slam a system that you've benefited from, now that you're years, and pounds, removed from the ideal frame preferred for models. I do believe that Banks is sincere, but I just wish she'd voiced these concerns back in 1995. But I guess she needed to gain this kind of insight first. 
Diana Ozemebhoya Eromosele is a staff writer at The Root and the founder and executive producer of Lectures to Beats, a Web series that features video interviews with scarily insightful people. Follow Lectures to Beats on Facebook and Twitter.
For more of black Twitter, check out The Chatterati on The Root and follow The Chatterati on Twitter.
Like The Root on Facebook. Follow us on Twitter.