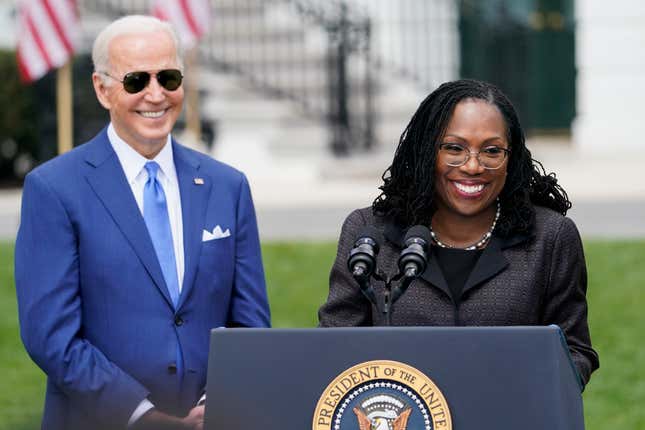 It's not a stretch to say that without Black Americans, Joe Biden might not be sitting in the White House today. Now that we're half-way through his first-term, it's worth checking in to see how Biden has delivered for the community that helped put him into power.
The Biden And Trump Classified Documents Scandal Explained
Because I'm sure you're all tired of listening to me drone on, we roped in some experts to give us their thoughts on the Biden White House, and they did not hold back.
"The soul of the Biden administration is Black, Black and female," says David Dixon, a Political Science Professor at Howard University.
"His support was overwhelmingly African American and female," says Dixon. "The energy in the Biden Harris administration is being directed back to his Black constituents."
Biden Nominated Twenty-Five Black Judges to The Federal Court
Dixon has some clear examples to back-up his point. In his first two years in office, Biden nominated at least 25 Black judges to the federal court and the first Black Woman to the Supreme Court, Justice Ketanji Brown Jackson.
Speaking of promoting competent Black women. Dixon also pointed to Biden's decision to choose Kamala Harris as his VP. "That was significant," says Dixon.
"He selected Kamala Harris as his running mate, making her the first African American Vice President in our history," he says.
While Biden's policy agenda has largely been hamstrung (we'll get into that in a minute), Dixon says we can't discount the impact of Biden's work at the executive level on voting rights. In March of 2021, Biden enacted a sweeping executive order directing federal agencies to expand access to voting.
What Has Biden Done About Student debt?
Biden's decision to forgive thousands of dollars in student debt was another area where he was fulfilling his promise to Black voters, who are disproportionately impacted by student debt, says Dixon. (The program is currently on hold thanks to Republican legal challenges).
"It's still in legal limbo," says Dixon. "But once that's resolved, if it goes through, it will be a big deal because… people who receive pell grants will receive a significant amount more, and a lot of African American and Latino students do [have pell grants]."
Student debt is hardly the only issue where Biden's policy agenda has been blocked.
Steven Taylor, a Government Professor at American University, says it's nearly impossible to judge what kind of President Biden has been for Black Americans since he hasn't been able to get most of his policies through Congress.
"You don't have a Congress that's willing to vote on anything that's going to improve the lot of Black people," says Taylor.
Fundamentally, Taylor says that Biden is a cautious President who faces an uphill battle to secure any victories for Black Americans. "In light of the composition of congress [and]... the Supreme Court, I don't think there's much he could have done that would have gotten done," says Taylor. "He's showing the cautiousness of someone who was in the Senate for over 36 years."
Taylor says that Biden has been hesitant to support legislative left-leaning priorities favored by "the squad," a group of progressive Democrats in the House, many of which are targeted at people of color.
"He's not necessarily working with them to get their priorities done because he understands from working with the Senate that he's going to be stymied," says Taylor.
Have Black Americans Thrived Under President Biden?
Another way to look at the Biden presidency is to look at how Black Americans have actually fared under his leadership. On the bright side, COVID death among Black Americans have plummetted.
But things haven't been all sunshine and rainbows. Skyrocketing inflation rates have been devastating for Black Americans. In August, roughly 55 percent of Black Americans told NPR that they were facing financial difficulties.
Despite the fact that Presidents often have limited control over things like inflation, Biden's poll numbers among Black Americans took a noticeable hit at the beginning of the summer as prices of everyday household items surged. Although he did regain much of his popularity closer to the midterms.
Going into the second half of his first term, Dixon says that Biden will have to find ways to address inflation by doing more than just raising interest rates.
"We need a much more robust plan to address inflation and to hopefully offset a recession that many people think is around the corner," says Dixon. "Inflation is disproportionately impacting African Americans, and the recession is going to have another disproportionate impact."
As far as the question of whether Biden's presidency has been "transformative" for Black Americans or not, Dixon says it's still too soon to tell.
"That's a difficult question," says Dixon. "Sometimes when you are developing a negative photo, it takes a few seconds… so what you see in the beginning, when you develop the negative, is different from what's to follow."