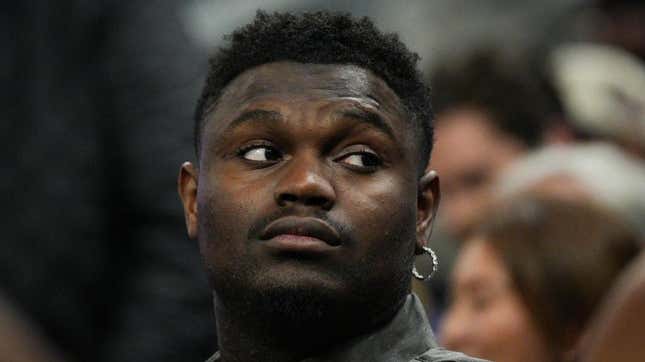 Nearly two weeks ago, after it was shared that Zion Williamson would be a father, Instagram model, and former pornstar Moriah Mills has been on a nonstop 24/7 scorched-earth rant against the New Orleans Pelicans star.
Stay Outta Black Businesses' Business
That's not an exaggeration. Every day, for the past two weeks, Mills has tweeted about Zion, accusing him of everything under the sun including cheating on her, paying her monthly, flying her out to New Orleans to live there, and many more things that I don't have the stomach to write about.
But on Tuesday, NBA Twitter was freed from the clutches of Mills' nonstop rants, and Twitter suspended her account after she threatened to release a sex tape of her and Zion.
She wrote on Twitter, "NBA I have sex tapes of me and @Zionwilliamson and he also has them on his trap phone."
Another post read, "Trade him now he doesn't deserve to be in New Orleans !!! Sex tapes dropping soon."
It seems like the people at Twitter HQ were just as tired of her posts as everyone else was because shortly after, her profile read, "Account suspended."
When Mills first revealed that she and the two-time all-star had allegedly been involved in a sexual relationship for some time now, the conversation surrounding their fling was intriguing (and funny at times).
But the fact that she's dragged this conversation on much longer than it needed to be has been exhausting for everyone on Twitter.
We get it. You allegedly had a relationship, you're hurt, and you miss him. Now please move on, and rant about Zion in the peace of your own home and not on social media, because we're all very tired of it.
NBA Twitter Reaction
Everyone on NBA Twitter was just as excited that Twitter ended Moriah Mills' nonstop rant and they were not afraid to make their feelings known just minutes after her account was suspended.
Hopefully, Moriah and the rest of NBA Twitter can go back to enjoying the offseason and focus more on what players are doing on the court instead of what they are doing off of it.