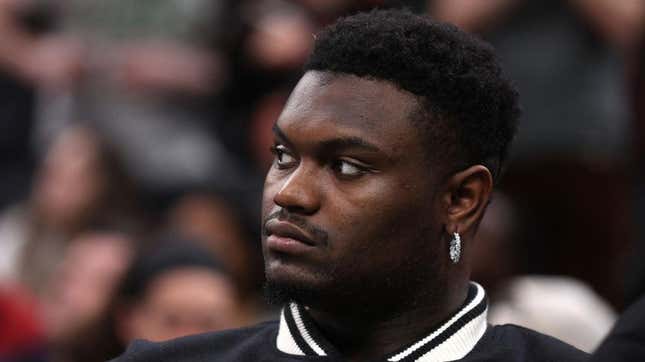 Updated 06/09/2023 at 9:47 a.m. ET:

This is not something I wanted to write about. I don't enjoy discussing the personal lives of NBA players, especially when children are involved.
ULTA Beauty Faces A Boycott For Being Trans-Inclusive In Their Marketing
But, this messy situation Zion Williamson is in the middle of cannot be ignored, and it has just gotten a lot worse.
If you're still behind on what the hell has been going on with the promising young NBA superstar, let me catch you up.
Zion is a father
On Tuesday, the star forward for the New Orleans Pelicans and his girlfriend announced that they're expecting a baby girl. Happy news, right?
Williamson's girlfriend, Akhkeema, even posted a cute little video of the gender reveal party they had with family and friends.
Though many on NBA Twitter thought that would be the end of it, we were VERY wrong.
Allegations from Instagram model
Nearly 24 hours later on Wednesday, as fans were looking forward to game 3 of the NBA Finals, a woman on social media started to post a flurry of tweets aimed at our lucky NBA superstar who's expecting a baby.
Instagram model and porn star Moriah Mills claimed that she's been in a longtime relationship with the athletic freak that is Zion Williamson.
But, she didn't just post empty claims. This woman had receipts – a lot of them.
This is just a fraction of the tweets Mills let off Wednesday afternoon. She accuses him of everything under the sun, including cheating on her, paying her monthly, flying her out to New Orleans to live there, and many more things that aren't appropriate to write on a computer.
She even claimed to work as his part-time therapist, claiming she was motivating him to be the "next king" to LeBron James.
After her 24-tweet diatribe against Williamson, she claimed she was being harassed by the family of Akhkeema, the woman having the NBA all-star's baby.
At this very moment, you can check her Twitter profile and she is still letting off tweets about her alleged relationship with Williamson.
A third woman involved?
But, just when everyone thought things could not get any worse, a third woman has thrown her name in the Zion hat, claiming that she's also had a relationship with the former No. 1 overall pick.
A woman who goes by Yami Taylor went off on Williamson Thursday, making some wild allegations against the 22-year-old star on her Instagram story.
In one post she wrote, "Why didn't I get my Bentayga and my Richard Mille last summer? @zionwilliamson because I don't let you record me? I never gave you a threesome or never had an OnlyFans or was on PornHub, so I guess I was all play. I probably never had a chance you nasty ass sex addict."
She also continued to make other posts, joking that she wants to move in with her "good sis" Moriah Mills.
Taylor also shared an alleged photo of Zion laying down in bed as if to prove that she had a relationship with him.
The wildest thing about this whole situation is that it allegedly occurred while Zion was probably missing 65 percent of this NBA season. He played in only 29 of a possible 82 games. Not to mention, he also sat out for the entire 2021-2022 season due to a fractured foot.
One of the most exciting players in the league just hasn't been able to stay healthy for the past two years. But it hasn't stopped him from using other lower extremities off the court allegedly.
Instead of discussing potential Dame Lillard or Chris Paul landing spots, NBA Twitter is making nonstop memes about Zion Williamson and the messy situation he's allegedly involved in. I don't envy him.