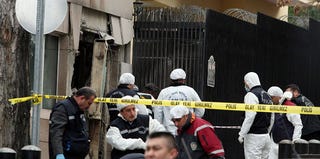 As many said goodbye to former Secretary of State Hillary Clinton on Friday, the U.S. Embassy in Ankara, Turkey, was attacked. On Saturday a leftist Turkish group, according to Reuters, claimed responsibility for the suicide bombing, blaming their motivations on America's foreign policy.
The Revolutionary People's Liberation Army-Front (DHKP-C) said it carried out Friday's attack, in which a suicide bomber detonated explosives strapped to his body at the embassy in Ankara, killing himself and a Turkish security guard.

In a statement on "The People's Cry" website, the DHKP-C, which is listed as terrorist organization by the United States and Turkey, warned Turkish Prime Minister Tayyip Erdogan he too was a target.

"Murderer America! You will not run away from people's rage," the statement said, next to a picture of the bomber, named as Alisan Sanli, wearing a black beret and military-style clothes and with an explosives belt around his waist.
Read more at Reuters.
Like The Root on Facebook. Follow us on Twitter.