Given the (second) nadir that this country now finds itself in, it might be time to make some drastic changes to the current state of things—especially in the leadership of the sluggish and Trump-enabling U.S. Congress.

Given that the man poised to take House leadership for the Democrats summarily got his ass whipped in New York by a Latina progressive this week, it looks as the tide is turning.
As such, Rep. Barbara Lee, repping the Ye for the last 20 years (that is Oakland, Berkeley, Emeryville and Alameda) is reportedly considering a bid for a Democratic leadership position in the House of Representatives.
And we say it's high time a black woman got in there and set the damn ship straight. No black woman has ever been elected to the leadership team of either party, and you see where the country is.
G/O Media may get a commission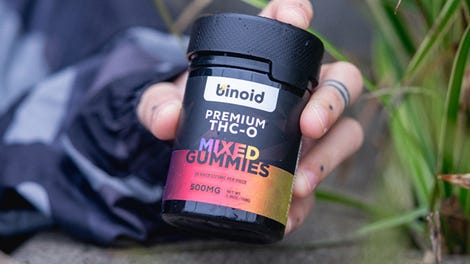 25% Off + Free Shipping
Binoid THC-O Gummies
"I was not seriously considering this until Tuesday night," said Lee, according to the Washington Post. "If this were not an open seat, I'd be making a different calculation. But things move fast around here, and I didn't want to wait until November to start looking at this."
The Oakland congresswoman, one of the most liberal members of the House, said in an interview Thursday that she was talking to colleagues about running for House Democratic Conference chair, a position currently held by New York Rep. Joe Crowley. The opportunity opened up after Crowley — the fourth highest-ranked Democrat in the House — lost in an upset to Alexandria Ocasio-Cortez, a 28-year-old Democratic Socialist candidate from the Bronx.

…

Her possible bid for the position comes amid a wider reckoning for House Democrats over Crowley's loss — and questions about whether Minority Leader Nancy Pelosi, D-San Francisco, will be able to hold onto her job after the November midterms.
The Post reports that in 2016, Lee lost a race for the conference vice chair, the number five Democratic leadership post, by one vote to Rep. Linda Sánchez.
Nancy Pelosi, of course, has vowed to stay on as a leader, saying, "They made a choice in one district," on Wednesday. "Let's not get yourself carried away."
Politico has compiled a list of possible Pelosi replacements—none of whom are a black woman.

Rep. Lee has her progressive bona fides—she was the only member of Congress to vote against the post-9/11 authorization for use of military force; came out strongly against #NetNeutrality and is a self-proclaimed member of the #resistance. And with two decades behind her, a wealth of knowledge and relationships.

"I could bring a vision to this job based on my work with different caucuses — my time as co-chair of the Congressional Progressive Caucus, my record with the Congressional Black Caucus," the 72-year-old said. "The majority of the country wants to see Democrats unified, but speaking with one voice on health care, affordable housing, fair wages and climate change."

In this climate, it would behoove Dems to start bending to the will of the people or ignore them at their peril. Plus, #trustblackwomen. They get the job done.