President Donald Trump hasn't accepted that his relationship with Celebrity Apprentice is over. He can't accept that Arnold Schwarzenegger is the new boss with a new catchphrase. He also can't deal with the fact that his old flame has moved on without him even though his new bae, the presidency of the United States of America, is far out of his league.

Trump is so petty that during the annual National Prayer Breakfast on Thursday, he had to take a swing at his old show and her new boyfriend.
"We had tremendous success on The Apprentice, and when I ran for president I had to leave the show. That's when I knew for sure I was doing it, and they hired a big, big movie star, Arnold Schwarzenegger, to take my place," Trump said, NPR reports. "And we know how that turned out. The ratings went right down the tubes. It's been a total disaster. And Mark [Burnett] will never, ever bet against Trump again. And I want to just pray for Arnold, if we can, for those ratings."
He's such a bitter bitch. Trump is so Chris Brown yelling Karrueche Tran's name in the "Back to Sleep" remix.
And get this: Trump's so bitter that he keeps dogging the show even though he still has executive-producer credit.
G/O Media may get a commission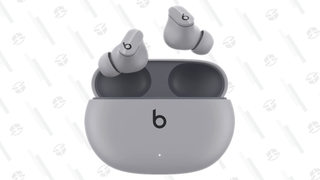 Schwarzenegger wasn't going to let the shot go unanswered, and he basically suggested that they switch girlfriends, since we all know that Trump can't handle his lady.
"Hey, Donald. I have a great idea. Why don't we switch jobs? You take over TV because you're such an expert in ratings, and I take over your job so people can finally sleep comfortably again," he said.
Here's hoping that President Prostitutes gets some closure, because he's really looking soft on these breakup streets.

Read more at NPR.