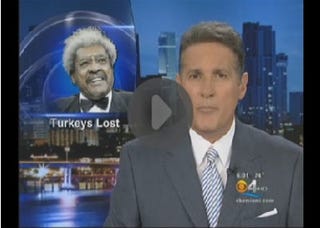 How sad.
CBS Miami is reporting that a truck filled with Christmas turkeys to be donated to needy South Floridians by boxing promoter Don King has been hijacked.
King's spokesman Robert Weneck said the truck full of 2,000 turkeys bound for South Florida went missing overnight. The truck was found abandoned near Pompano Beach sometime Friday morning, according to Weneck.
While the turkeys were still inside, the fowl had to be discarded because nobody was sure whether they'd been temperature-controlled and safe to eat.
CBS Miami reports that King and his staff are hoping to replace the damaged turkeys. We hope they can work something out, because many needy families have come to rely on the 50-year holiday tradition to help put food on the table. Watch the video to hear the stories.
Read more at CBS Miami.