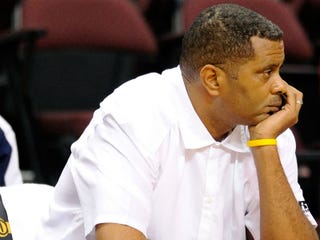 Todd Bozeman actually should have landed a better job by now.
His talents should have been requested at a more prestigious school, for a job with a national profile that's worthy of his résumé. He did his penance for a major NCAA violation 16 years ago and excelled once Morgan State gave him another chance in 2006.
Bozeman proved that he still had it at Morgan State, leading the Golden Bears to 20-plus victories in three of his first four seasons, winning a Mid-Major Coach of the Year Award and three Mid-Eastern Athletic Conference Coach of the Year Awards.
He's ready to return to the big time, like when he coached California in 1994 and became the youngest coach to reach the Sweet 16 (a record he still holds). The eight-year ban he served for giving a recruit's parents $30,000? Ancient history.
The last thing he needs is another negative incident attached to his name (like the assault charges — dropped after he apologized to a restaurant worker — in 2007). But that's where he finds himself today, suspended with pay by Morgan State for either punching a player or making accidental contact, depending on whose account you believe.
According to the Baltimore Sun, South Carolina State President George E. Cooper was among the witnesses who thought Bozeman, 48, punched guard Larry Bastfield in the face. Bozeman and Bastfield said the incident was blown out of proportion.
"These people are completely off the charts," Bozeman told the newspaper. "I didn't hit him in the face."
Bastfield said that he "exaggerated" his reaction and staggered a few feet backward after contact with Bozeman. "He accidentally bumped me in the chest," Bastfield said. "It was something that happens in the heat of the game."
Athletic directors and presidents at major powerhouses aren't the most courageous individuals, as evidenced by the number who declined to give Bozeman another shot over the past few years. This latest incident will scare them even more, regardless of what really happened.
Bozeman might have cost himself any chance of returning to a big-time school.
If he punched the player, Bozeman can't blame anyone but himself. If he didn't punch the player, it's bad enough that Bozeman put himself in a position to be accused.