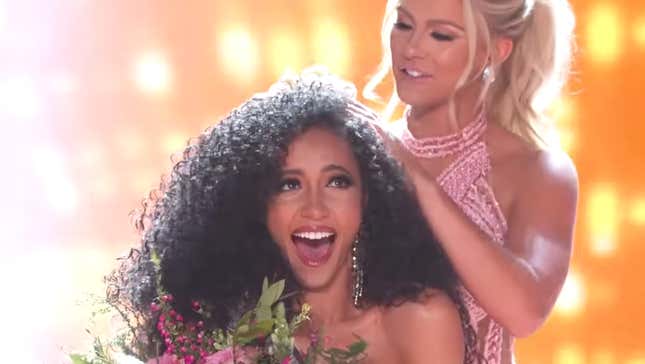 With the crowning of Cheslie Kryst as Miss USA last night, a trio of black women have now claimed the crowns in three major beauty pageants, including Miss America and Miss Teen USA.
Courtney B. Vance in Heist 88 Is Our Black TV Pick of the Week
Kryst, a 28-year-old attorney from Charlotte, N.C., works on behalf of prison inmates, and as CNN reports, gave a sterling answer to a question about #MeToo and #TimesUp at the pageant, held Thursday night in Reno, Nev.
The question, if we all want to roll our eyes in unison, was whether the respective awareness campaigns had gone too far:
"I don't think these movements have gone too far," she said. "What #MeToo and #TimesUp are about are making sure that we foster safe and inclusive workplaces in our country.

"As an attorney, that's exactly what I want to hear and that's exactly what I want for this country. I think they're good movements."
She joins Miss Teen USA Kaleigh Garris, who turned heads this week as she won the title while rocking a crown of natural curls.

"The night before, I finger curled every single piece of my hair in the shower, which led to a very long shower, but it was for the greater good," Garris told Refinery29. "I know what I look like with straight hair, with extensions, and with my curly hair, and I feel more confident and comfortable with my natural hair."
She was the first Miss Teen USA winner since 1999 to forgo a blowout in favor of wearing her natural texture.
And in September 2018, Miss New York, Nia Imani Franklin, won the title of Miss America after the competition underwent some much-needed (and much-publicized) changes, including cutting its controversial swimsuit competition.
With her win, Kryst will represent the U.S. in the Miss Universe pageant, where only five black women have ever won the competition.