The 2018 Tribeca Film Festival wrapped Sunday after a 12-day flurry of excitement, events, activism and, of course, brand-spanking-new entertainment to look forward to this year.
Surprisingly, style was a big theme at Tribeca 2018—and not just on the step-and-repeats. Among the 70-plus premieres this year, there were five fashion-focused documentaries (which, believe it or not, is a high percentage for a film festival). With subjects ranging from legendary kicks to a legendary fashion editor, the filmmakers featured at Tribeca this year reminded us that at its heart, fashion is driven by emotional choices and responses, and affects us all in ways we're often not even aware of.
1. Unbanned: The Legend of AJ1
For instance, take Unbanned: The Legend of AJ1, which chronicles the history of the Air Jordan 1 and its effect on everything from sports to hip-hop. Featuring commentary from Chuck D, Lena Waithe, Michael B. Jordan, DJ Khaled, Carmelo Anthony, Anthony Anderson, Spike Lee and former NBA Commissioner David Stern, among others, Unbanned explores the huge cultural and very emotional impact of the arrival of the "Jordan"—which, obviously, continues to this day.
As the film's creator, marketing strategist and self-proclaimed sneakerhead Dexton Deboree, told Sneaker News:
I kept hearing the zeitgeist around Jordan – the shoe and the brand, and for some people it's about MJ and for some people it's about the shoe. But none of that, to me, really landed as the ultimate point. I really wanted to know why there was such a global phenomenon, a religious affinity almost, for this shoe. I dove into the exploration of that, and I found it in the film. ...
Some of the stories that I heard from people that connected the shoes with their father, or to their own identity, or to their voice as an underprivileged or underserved person in the world. I didn't go looking for that; that found me. And that feeds into why so many people have an affinity for this shoe. [Its] symbolic meaning goes way beyond being just a pair of kicks.
G/O Media may get a commission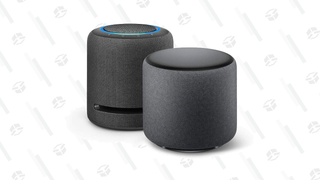 25% off - Prime Exclusive
Echo Studio + Echo Sub Bundle
2. McQueen
Lee Alexander McQueen, a high-fashion rebel and prolific powerhouse before his suicide in 2010 at age 40, flips haute couture the bird in a moment of the rare footage used to create McQueen, a documentary on the late designer's life. It's a gesture in keeping with his general—and undeniably genius—approach to fashion, as well as his often tumultuous relationship with an industry that at turns lauded and scorned him for his petulance and daring.
Through personal, never-before-seen home video and interviews with family, friends and former colleagues, McQueen follows its namesake from his days as a wayward but fashion-obsessed schoolboy through apprenticeships on London's Savile Row and in Milan, to his success and innovation at his eponymous label and, ultimately, to his death. In the process, viewers are exposed to a soul as gorgeous, nuanced and tortured as much of the clothing he sent down the runways during his all-too-brief career. As McQueen himself says in the film: "I will pull these horrors out of my soul, and put it on the catwalk."
3. Yellow Is Forbidden
Fashion followers everywhere remember the canary-yellow, elaborately embroidered, fur-lined cloak with the mile-long train that Rihanna donned for the 2015 Met Gala. The theme of the evening was "China: Through the Looking Glass," and the designer of Rihanna's now-iconic look was Chinese designer Guo Pei, the subject of a new documentary, Yellow Is Forbidden.
Funnily, Pei claims not to have known who Rihanna was when she received the request for the garment. This level of alienation and isolation fascinated award-winning New Zealand filmmaker Pietra Brettkelly, who'd long been intrigued by "this woman who carves a whole world in a heel."
Employing 300 embroiderers and centuries-old techniques criminalized during China's Cultural Revolution, Pei is an anomaly in the current world of fast fashion. Pei's intricate and elaborate couture creations—some of which take up to two years to create—are the centerpiece of Yellow Is Forbidden. Brettkelly follows Pei as she attempts to break into the Parisian fashion world and garner a "haute couture" designation, conveyed only by France's Fédération de la Haute Couture et de la Mode through a rigorous process.
Pei's pursuit of the honor shines a light on the racism inherent at all levels of the fashion industry, and raises questions about the cost of pandering to the white European gaze. Notably, during a scene in which Pei's museum-quality garments are on display in the Louvre, famed milliner Philip Treacy, who also appears in McQueen, advises her not to sacrifice her cultural cachet, urging her to defy European standards and "be more Chinese."
It's at times painful to watch Pei seem to reject her Chinese sensibilities to attempt to appeal to Parisian tastes, at one point even deciding against using Chinese models for her first Parisian runway presentation.
The Glow Up caught up with director Brettkelly at Tribeca, and she spoke about documenting this pivotal point in Pei's career: "There's this fine line she's walking between assimilation and acceptance, and I think that a lot of times, we all get it a little wrong, and we lose a little bit of ourselves."
Watching Pei find her way is a surprisingly emotional journey, with a moral we should all remember.
"I am my own princess; I am my own empress," Pei says.
4. Tiny Shoulders: Rethinking Barbie
Any child who grew up with Barbie knows the impact the fashion doll has had upon beauty standards. Now nearly 60 years old, the icon known as Barbie was a one-plastic-woman revolution when she was born in 1959. In the decades since, she has often been a point of contention in discussions about how her particular brand of beauty affects both girls and women everywhere. And yet despite waning sales in recent years, she continues to have a huge influence on beauty and gender norms.
When adults talk about Barbie, they aren't talking about the classic doll that many of us gripped as 8-year-olds. They're talking about gender roles and white supremacy and body image and beauty myths, and I think Barbie symbolically gets caught up in that.
So says a voice-over in Hulu's new documentary, Tiny Shoulders: Rethinking Barbie, which follows the Mattel staff as they attempt to redesign the iconic Barbie body into a diverse range of shapes, skin tones and hair textures for a new, body-positive generation. While not a specifically fashion-focused film, Tiny Shoulders represents a cultural shift that has had an impact even on the world's most famous doll.
With commentary by Gloria Steinem, Roxane Gay and a host of others, the documentary—available now to Hulu subscribers—is not only a history lesson on Barbie's surprisingly feminist roots but also a conversation about how and when her progressiveness became a symbol of repression. And as the Mattel team works diligently and passionately to make her relevant to current and future generations, the biggest question on the table seems to be: Is it too late?
5. The Gospel According to André
It's fitting that perhaps the biggest hit of the Tribeca Film Festival was a documentary about larger-than-life fashion icon André Leon Talley. Premiering to a sold-out auditorium on the final Wednesday of the festival, The Gospel According to André was a feast for lovers of fashion and black culture alike, centering one of fashion's most colorful figures as what one of the film's producers called "an American success story," while director Kate Novack rightly considers Talley a piece of "American cultural history."
The Tribeca audience laughed, nodded, occasionally teared up and were sent into gales of laughter again during the 94-minute film, which features not only plenty of the fabulous Talley but also appearances by Tom Ford, Tamron Hall, Marc Jacobs, Anna Wintour, Whoopi Goldberg, Fran Lebowitz, Bethann Hardison, Valentino and more. Novack chronicles Talley's childhood and upbringing by his beloved grandmother in Durham, N.C., through his cultural awakening at Brown University, and incredible years as an assistant to both famed editor Diana Vreeland and Andy Warhol, before graduating into being a writer and later editor for both British and American Vogue.
From the origin of his ubiquitous capes to his weight issues to being single to his thoughts on being a black, gay man in the once improbable role of one of the foremost arbiters of fashion, Talley holds nothing back in The Gospel According to André. He is completely aware that his presence has been a lightning rod for the fashion industry, and has often paid a very poignant price for his visibility.
As professor, theologian and close friend Eboni Marshall Turman says in the film: "André completely transgresses the boundaries of black masculinity," later noting, "He is making such a statement about the value of black life; it is an affirmation that God is going to turn it around."
As for Talley himself, post-premiere, he told the Tribeca crowd, "When you're an original, your legacy lasts; style remains. And I want this film to be my legacy."