Westworld returns to HBO tonight, and having previewed the premiere, I gotta tell you: Brace yourselves, because this season is destined to be even more of a doozy than the last (calm down; that's the extent of my spoilers for season 2).
I say this in slight bewilderment, because despite faithfully watching season 1 (twice), the fact that I'm even remotely attracted to Westworld is an anomaly, since 1) I hate Westerns, and 2) I only selectively like sci-fi. Like, very selectively (fight me ... but make it fashion).
But I am indeed a devoted Westworld watcher, in large part because of the talents of the cast, which has thus far included faves like Sir Anthony Hopkins, Ed Harris, eternal Basquiat bae (and beyond) Jeffrey Wright, the increasingly versatile Tessa Thompson, and the stunning and steel-willed Thandie Newton, who plays the newly sentient robot Maeve.
Last season's finale left us with an unforeseen scenario—first of all, all the black characters were still alive (or rechargeable)—and Maeve abandoned her own escape to return to the park in search of her virtual daughter. Speaking at the season 2 premiere at the Tribeca Film Festival on Thursday night—which she attended wearing a sharply cut, strong-shouldered suit in crimson satin—Newton admitted that she struggled with her character's choice:

I was in complete denial about the fact that Maeve goes back into the park, to be honest. … I wanted her to get out of there so desperately, and I was wedded to that belief. … I didn't even think about: "Of course she's not going to leave the park, 'cause it's a nightmare out there!" Like, she's done everything she can to escape these motherfucking human beings—as if she's going to go into a world where it's completely populated by them.
The world Maeve will return to this season promises to be a surprisingly expanded one, as teased in season 1 and indicated by Westworld's 45-year-old source material, created and directed by bestselling novelist Michael Crichton. The android-populated theme parks originally also included "Medievalworld" and "Romanworld." I won't reveal any more, but let's just say I don't think we're (only) in Kansas anymore.
G/O Media may get a commission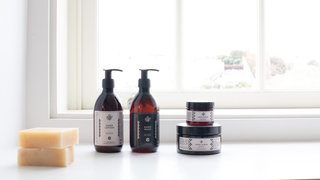 Exfoliate and Hydrate
The Handmade Soap Company
But Newton had some very telling metaphors about Maeve's continuing journey, admitting that there is a perversely perfect timing to the way her narrative is unfolding, given our current state of affairs in the real world. As told to the assembled audience at Tribeca:
The thing about Maeve is that she responded to the betrayal of what had happened to her in such a profound way. … If you discover that everything about who you are—all the promises that were made to you, your identity—is all a lie, I mean, it is something that we can all relate to. That we're being lied to, that our protectors—our gods—are just creating a madness for us all to pay for.