A horn riff. A thump of the bass. A tinkle of the keys followed by the "boom-bap" of the drums. These sounds are the hallmarks of legendary jazz label Blue Note Records, which was the first recording showcase of talents like Miles Davis, John Coltrane, Thelonious Monk and many more who would go on to be jazz legends.
The rise of this improbable empire is chronicled in a new documentary, Blue Note Records: Beyond the Notes, which debuted this week at the Tribeca Film Festival. Directed by Sophie Huber, the film features jazz greats young and old, living and dead, telling the story of a label that produced some of the greatest albums ever recorded.
"If you like jazz, you're going to love the film. If you don't like jazz, you're going to love the film," our host proclaimed in his introduction. As both a jazz lover and singer (who was even named after a Davis song), I was on the edge of my seat.
The 85-minute film is a jazz nerd's dream, with archival footage of classic sessions and performances interwoven with the story of the label and commentary from both established and contemporary Blue Note artists, including Robert Glasper, Herbie Hancock and Wayne Shorter.
In the process, we see jazz as a metaphor for escape from repression, frustration and restraint. We also see it as a direct predecessor to hip-hop, a legacy long impressed upon us by artists like Guru, A Tribe Called Quest and Glasper himself. In fact, Blue Note saxophonist Lou Donaldson's "Ode to Billie Joe" is the most sampled breakbeat in hip-hop.
"The music is only a tool to express what's inside," says drummer Kendrick Scott. "Jazz represents freedom."
G/O Media may get a commission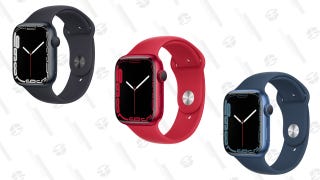 Up To $45 Off
Apple Watch Series 7
It's no coincidence, then, that Blue Note was founded by Alfred Lion and Francis "Frank" Wolff, two refugees from Nazi Germany living in New York City, who quickly became fascinated by the jazz scene.
"We all had that survivor situation," says producer and performer Terrace Martin. "That's why they understood, and cats knew that they understood."
Notably, Wolff, a commercial photographer in his native Germany, took many of the iconic photographs that capture Blue Note's classic era, and which were then used by graphic designer Reed Miles for the covers of many of the label's most iconic albums.
But back to that hip-hop connection: Blue Note's contemporary stars, including crossover phenom Robert Glasper, declare that jazz is, if anything, hip-hop in unspoken form. "Monk is the first hip-hop pianist," Glasper says.

"I think jazz and hip-hop are the exact same thing," agrees trumpeter Ambrose Akinmusire. "Jazz used to tell the stories of the inner cities. When jazz changed, hip-hop started to tell the stories of the inner city."
Jazz's evolution into hip-hop is a major theme in Beyond the Notes, which is in some ways also a hip-hop documentary and a passing of the torch. One of the film's highlights is a session in which Hancock and Shorter are joined by Glasper, Scott and several of the younger generation of Blue Note artists to record one of Shorter's compositions.
It's simultaneously a supergroup and a family reunion, as the older guard and the new collaborate and educate one another in real time. After Tribeca's premiere screening Monday night, that legacy continued with a performance by Robert Glasper Experiment and a special appearance by rapper Common, once again making it clear that jazz and hip-hop are inextricable, and that beyond the notes, great music is all about improvisation.
But if there's anything missing from Beyond the Notes, it's female voices. Although the film is directed by a woman, with the exception of Blue Note prodigy Norah Jones—who helped introduce the label to a new generation—the numerous women who recorded on Blue Note aren't heard from, and are barely referred to. Where are the contributions of Dodo Greene, Carmen McRae or Lena Horne, all of whom spent portions of their careers on the label? Or commentary from living legends like Marlena Shaw, Bobbi Humphrey, Cassandra Wilson, Rachelle Ferrell or Dianne Reeves?
Instead, Blue Note Records: Beyond the Notes is largely a story of black male brilliance, which, as a female viewer and musician, I found bittersweet. Undeniably, the boys' club that was—and in many ways, still is—Blue Note has been a haven for musically gifted black men, and that is what makes it a rarity in American history, musical and otherwise. And while that may be only part of the label's nearly 80-year story, it's ultimately still a good one.