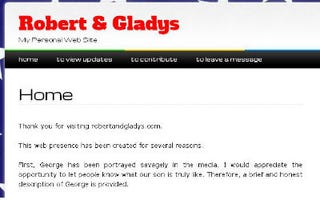 Friday, July 27, 10:05 a.m. EDT: Zimmerman's parents launch fundraising website: George Zimmerman's parents, Robert and Gladys, appear to have recently launched a fundraising website in the wake of the Trayvon Martin shooting to help with their living expenses, the Orlando Sentinel reports. Robert Zimmerman says in a message on the site that he intends to give the public a "brief and honest" description of their son, who has been "portrayed savagely" in the media; explain what life has been like for the family since the Feb. 26 shooting; and ask for monetary support.
Thursday, July 26, 2:20 p.m. EDT: Recent interview could backfire in court for Zimmerman: After George Zimmerman talked about the death of Trayvon Martin with Fox News' Sean Hannity, prosecutors said they would use the interview as evidence in the second-degree-murder case, WPTV reports.
Thursday, July 26, 10:41 a.m. EDT: Ben Stiller says The Watch is a "silly comedy," unrelated to Trayvon: Concerned that the public would associate its movie Neighborhood Watch with Trayvon Martin's shooting by neighborhood-watch volunteer George Zimmerman, 20th Century Fox changed the film's title to The Watch, the Los Angeles Times reports. But Ben Stiller, who stars in the film, says that he hopes audiences understand that it's just a "silly comedy" with no message and no connection to the unarmed teen's
Wednesday, July 25, 5:50 p.m.: Trayvon's parents say his death wasn't in vain: Sybrina Fulton and Tracy Martin, parents of slain Florida teen Trayvon Martin, were the headline attractions Wednesday before a Children's Defense Fund conference audience that was urged to simultaneously forgive wrongdoers and fight for equal justice, USA Today reports. "The most difficult part is what I'm dealing with now: not having my son on Earth to hold and to talk with," Fulton said. "I am certain I will be able to deal with what the court decides." "Nothing anyone can do will bring Trayvon back," Tracy Martin said. "You have to take that negative and turn it into a positive. We chose to keep our son's name alive and not let his death be in vain." With that goal, the family created the Trayvon Martin Foundation, the aims of which are conflict resolution, cross-cultural dialogue and crime prevention.
Wednesday, July 25, 3:00 p.m.: Michael Moore talks Aurora movie shooting and Trayvon: On Tuesday's Piers Morgan Tonight, filmmaker and director Michael Moore related the movie-theater shooting to the Trayvon Martin case, CNN reports:
Addressing the "irony" of George Zimmerman quoting Florida's "stand your ground" law in the Martin case, Moore surmised "You could equally argue that Trayvon Martin may well have been doing the same thing." "Let's say George Zimmerman's right when he says that Trayvon Martin was trying to kill him," suggested Tuesday's guest. "But it was George Zimmerman who was told by the police to quit stalking this boy. And — and he was the one who was committing the infraction against the law by disobeying the police and going after Trayvon Martin. Doesn't Trayvon Martin actually have the right to kill George Zimmerman if George Zimmerman is stalking him and — and the police have told him not to stalk him?"
Read last week's updates on the Trayvon Martin case here.  
Read all of The Root's news and commentary about the Trayvon Martin case here.
Like The Root on Facebook. Follow us on Twitter.