Friday, July 20, 10:31 a.m. EDT: Zimmerman's defense fund "pretty much depleted," attorney says: George Zimmerman's website was relaunched surrounding his interview with Fox News' Sean Hannity this week, CNN reports. In the interview, Zimmerman said, "I wanted to take this opportunity to thank you, the masses. You can personally communicate with me, and I hope to be your website to provide facts." The website also solicits donations to Zimmerman's legal defense fund, but, according to CNN, attorney Mark O' Mara says the fund is "pretty much depleted."
Thursday, July 19, 8:36 a.m. EDT: Zimmerman says he does not regret shooting Trayvon; it was "all God's plan": In his first interview with the news media, George Zimmerman, the neighborhood-watch leader charged with second-degree murder in the killing of Trayvon Martin, apologized on Wednesday to Trayvon's parents for the death of their son but said he did not regret his actions, the New York Times reports. "It was all God's plan, and for me to second-guess it or judge it … " Zimmerman said, his voice trailing off. He also defended himself against accusations that he was suspicious of Trayvon because he was black.
Wednesday, July 18, 3:53 p.m. EDT: Zimmerman and attorney to appear on Hannity tonight: Fox News' Sean Hannity interviewed both George Zimmerman and his attorney, Mark O'Mara, for an episode that will air on Wednesday night. A press release said that "Zimmerman will open up about what happened the night of Trayvon Martin's death and his experience in the aftermath of the fatal shooting," the Huffington Post reports. News of the interview came a day after Fox News denied a report that Sean Hannity offered to pay Zimmerman's legal fees.
Wednesday, July 18, 10:35 a.m. EDT: More details on Zimmerman sexual-abuse allegations: CNN reports that the woman known as "Witness 9," who has accused George Zimmerman of having sexually abused her for about a decade, beginning when she was 6 years old and he was 8, said in audio recordings that have been made public: "He would reach under the blankets and try to do things and I would try to push him off." Mark O'Mara, Zimmerman's attorney, released a statement Monday responding to the allegations. In it, he said that his client was not yet 8 years old when the alleged abuse began, and that he was 17 when it was alleged to have ended. O'Mara said the woman is Zimmerman's cousin.
Tuesday, July 17, 8:17 a.m. EDT: Neighbors hope to block permanent Trayvon memorial: Five months after neighborhood-watch member George Zimmerman shot and killed the unarmed teen, there's now talk of a permanent memorial to Trayvon Martin in Sanford, Fla., WKMG reports. But for some it's a discussion that needs to wait until the trial is over. "This was a tragedy to the Martin family, as we understand, but it hasn't played out yet," said Frank Taafe, a Zimmerman supporter and former neighbor. "Let's let this thing play out, because I know who the aggressor was and I know who the victim was."
G/O Media may get a commission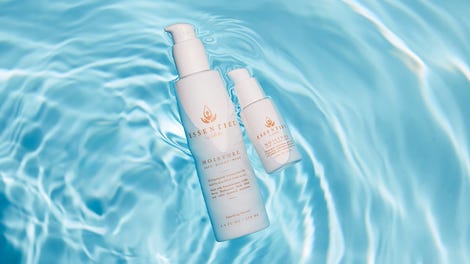 20% off
Essentiel by Adele
Monday, July 16, 1:53 p.m. EDT: George Zimmerman is accused of molesting a family member: Today prosecutors released dozens of phone calls that Zimmerman made behind bars and a statement by a witness who said that she believes Zimmerman is a racist, Orlando's WFTV reports. Witness No. 9 not only said that Zimmerman is a racist but, during an interview with investigators, also stated that Zimmerman molested her from the age of 6 through her teenage years, according to the documents.
Monday, July 16, 11:08 a.m. EDT: George Zimmerman's cop connection: The Christian Science Monitor reports that documents from the FBI and the Florida Department of Law Enforcement suggest indirectly that George Zimmerman's closest adviser in the aftermath of the Trayvon Martin shooting has been a federal agent — a U.S. air marshal and former Seminole County sheriff's deputy identified by the Miami Herald as a man named Mark Osterman. 
Read last week's updates on the Trayvon Martin case here.
Read all of The Root's news and commentary about the Trayvon Martin case here.