Friday, May 18, 10:00 a.m. EDT: Haunting surveillance video from the 7-Eleven that Trayvon Martin visited just before his untimely death has been released by ABC News, Mediaite reports.
Thursday, May 17, 6:05 p.m. EDT: Autopsy shows that Trayvon had THC, the drug found in marijuana, in his system: Trayvon Martin had THC — which is found in marijuana —  in his system the night he was shot and killed by George Zimmerman, according to new information obtained by ABC News. (It was previously reported that the unarmed teen, who lived in Miami, was in Sanford, Fla., while serving a suspension for a bag of marijuana being discovered in his possession.) The autopsy also shows that Zimmerman shot Trayvon from a distance of one to 18 inches away.
Thursday, May 17, 10:29 a.m. EDT: O'Reilly to media: Stop exploiting Trayvon: In a discussion of the newly released medical records showing that George Zimmerman sustained minor injuries the night Trayvon Martin was killed, Bill O'Reilly blasted politicians and members of the media for "exploiting" Trayvon Martin's death on his Wednesday show. He brought Martin family lawyer Benjamin Crump on to discuss the latest twist in the case. Crump said that the doctor needed "to be vetted properly," and questioned why Zimmerman did not go to the hospital on the night of the shooting. Watch the video at the Huffington Post.
Tuesday, May 15, 6:50 p.m. EDT: FBI actively investigating hate crime charge: WFTV reports today that charges against George Zimmerman could be getting more serious. FBI investigators are actively questioning witnesses in the Retreat at Twin Lakes neighborhood, seeking evidence for a possible federal hate crime charge. He's facing a second-degree-murder charge, which carries a maximum sentence of life in prison without the possibility of parole. But if Zimmerman is charged and found guilty of a federal hate crime involving murder, he could face the death penalty.
Tuesday, May 15, 6:30 p.m. EDT: Zimmerman medical report released: A medical report compiled by the family physician of accused Trayvon Martin murderer George Zimmerman and obtained by ABC News found that Zimmerman was diagnosed with a "closed fracture" of his nose, a pair of black eyes, two lacerations to the back of his head and a minor back injury the day after he fatally shot Trayvon during an alleged altercation.
G/O Media may get a commission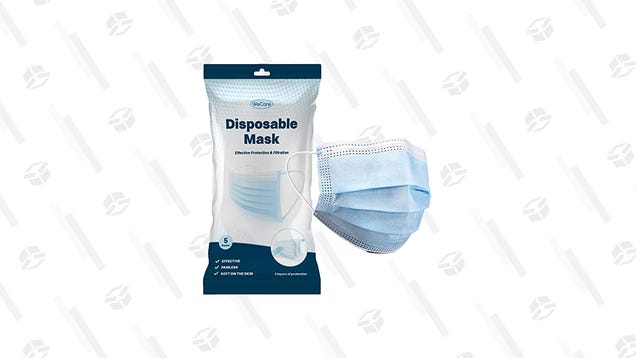 WeCare Disposable Masks With Elastic Earloops- 5 Pack
Tuesday, May 15, 10:56 a.m. EDT: Fire captain who posted about Trayvon on Facebook demoted: A Miami-Dade fire captain has been demoted to firefighter as punishment for a rant, posted on his personal Facebook page, about the Trayvon Martin case, the Miami Herald reports. Capt. Brian Beckmann criticized prosecutor Angela Corey, who charged George Zimmerman with second-degree murder in Trayvon's death. In the post, Beckmann suggested "urban youth" were the products of "failed, sh—bag, ignorant, pathetic, welfare dependent excuses for parents."
Monday, May 14, 4:22 p.m. EDT: Trayvon Martin gun-range targets sell out: A Florida distributor who has selling gun-range targets meant to resemble slain Florida teen Trayvon Martin has reportedly sold out his entire stock within two days. The product description reads in part, "Everyone knows the story of Zimmerman and Martin. Obviously we support Zimmerman and believe he is innocent and that he shot a thug. Each target is printed on thick, high quality poster paper with matte finish!"
Monday, May 14, 9:48 a.m. EDT: Martin and Zimmerman families both receive outpourings of donations: Sybrina Fulton, who has worked at the Miami-Dade County housing authority for 23 years, collected $40,825 worth of donated vacation time, the Kansas City Star reports. The paid time off is in addition to the nearly $100,000 the family raised on wepay.com and at rallies, which will be used to launch a criminal-justice advocacy foundation in Trayvon's name. Meanwhile, George Zimmerman, the man who shot their son, raised $204,000 in just three weeks with a PayPal account posted to a website. He spent about $50,000 before his defense lawyer ever learned of the fund's swelling balance, his attorney, Mark O'Mara, acknowledged.
Monday, May 14, 7:50 a.m. EDT: Trayvon's mom sends Mother's Day message: On Sybrina Fulton's first Mother's Day without her son Trayvon, she used a video message to urge the public to continue to fight for children whose lives are cut short by senseless acts of violence. "I'm asking you to join Florida in calling upon the governor of your state to re-examine similar 'Stand your ground' laws throughout the nation to keep our families safe," she said. "I thank you from the bottom of my heart. Happy Mother's Day." Watch it here.
Read last week's updates on the Trayvon Martin case here.
Read all of The Root's news and commentary about the Trayvon Martin case here.