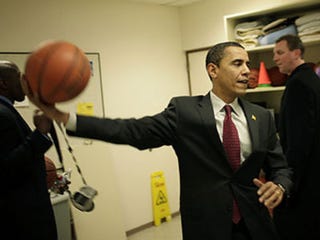 When it comes to presidential elections, most of us write a check, make phone calls or knock on doors to support our candidate of choice. NBA players in the midst of a lockout have another option: Hit the court.
In this latest piece of news about athletes making productive use of lockout time, several have committed to do just that. Kevin Durant, Chris Paul, Carmelo Anthony, Ray Allen, Chris Bosh and others will play in the Obama Classic Basketball Game, scheduled for Monday, Dec. 12, in Washington D.C., to raise money for the Obama Victory Fund.
There's no word yet on whether the president himself will play, but that might be what it takes for fans and supporters to decide whether to pick up tickets, which range in price from $100 to $5,000 for courtside seats.
Read more at Uptown magazine.