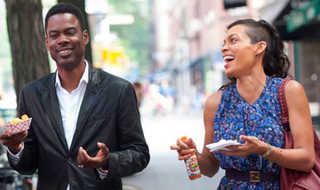 What does it look like when you finally accomplish a thing that is more indicative of the total sum of your talents than anything you have done before in your life? For Chris Rock, it would look something like his new film, Top Five, which he stars in, directs and co-wrote along with Scott Rudin.  
Just as life often affords us multiple opportunities to right wrongs, Rock has afforded himself the opportunity to direct, write and star in a comedy that might be a hit. Though he has attempted to do so in the past with such offerings as I Think I Love My Wife and Head of State, we believe Top Five, which opens Friday, is the most quintessentially Chris Rock film of all time. Yes, we're aware that's saying a lot, but perhaps that hyperbole will give you some sort of an idea as to the content, scope and comic sensibilities of the movie.
Featuring an all-star class of elite black comedians, the likes of whom have not been seen since Eddie Murphy's Boomerang and Harlem Nights, Top Five stars Rock, JB Smoove, Tracy Morgan, Michael Che, Cedric the Entertainer, Kevin Hart, Sherri Shepherd, Gabrielle Union, Leslie Jones and Rosario Dawson. This modern comedy is smart, funny, full of wit and delicious ribaldry.
Rock plays a standup comic named Andre Allen who made it big by portraying a man in a bear suit named Hammy, but now he wishes to move beyond that character and try to make a name for himself in dramatic roles. But things aren't going so well because the media and his fans simply won't take his career shift seriously and insist that he play a character he's grown tired of.
Rock portrays Allen as intelligent, thoughtful, introspective and vulnerable to his addictions. In fact, he is a recovering alcoholic who has been sober for five years when the movie begins. At a press conference last month in New York City featuring the film's stars, Union spoke of her own addictions.
"I think the addiction for my character, as well as my addiction in real life, is the addiction of wanting to please, to want to be liked and to be validated by other people," Union candidly stated. "In the film, you have this girl who doesn't have any discernible talent, any quantifiable talent, except who she is and that people have decided to like her and that people are interested in her wedding.
"There's this constant addiction to feed the beast," she continued. "How do I stay being liked? How do I avoid unemployment? How do I, how do I, how do I? I think that becomes addicting in our industry and in life. I think that's something everyone everywhere can relate to, wanting to be liked and be chosen. With reality TV we've just taken it a step further, to be publicly chosen. In our own lives, we want to be chosen. We want to be picked."
Read more at the Shadow League.